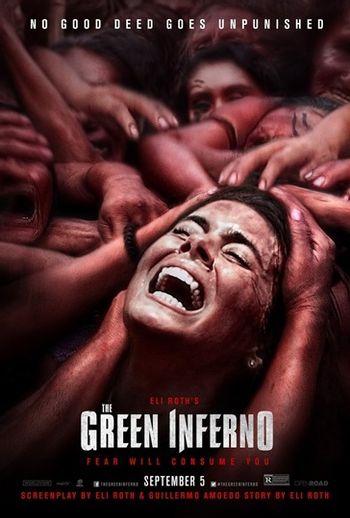 The Green Inferno is about a group of student activists who travel to the Amazon Rainforest in order to protest a logging company and soon discover that they are not alone, and that No Good Deed Goes Unpunished.
Eli Roth's love letter to the Cannibal movie genre of old. Notable for a delayed release,note The film premiered at the 2013 Toronto International Film Festival, but didn't get a release for two years due to production company Worldview's financial troubles. After a Distributor Hop from Open Road Films to Blumhouse Productions, it was released two years after its premiere. coupled with a press tour in which Roth singled out "social justice warrior" student protesters as his target.
Filmed on location in Chile and Peru with a local tribe.
---
Tropes:
Too Dumb to Live: One of the students who survives the plane crash walks right into a propeller blade. There's no real reason he does so, as he can slowly see it moving in front of him. He just does.
Tranquillizer Dart: The natives will use them to recapture any escapees

such as poor Samantha

.
Virgin Power:

Justine's

candidacy for Final Girl is tied to this.
Wham Line:

Alejandro: There is more on the way.

Daniel: More what?

Alejandro: Bulldozers.

Daniel: What?

Alejandro: We didn't stop anything. We just delayed it by a day or two.

Witch Doctor: The eldest female of the tribe has this as her purpose.
---