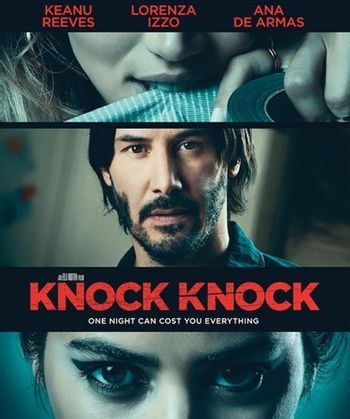 Knock Knock is a 2015 erotic horror-thriller film co-written, co-produced and directed by Eli Roth, starring Keanu Reeves, Lorenza Izzo, and Ana de Armas. It is a remake of the 1977 film Death Game, and not only was most of the cast and crew of the film involved in the production of Knock Knock, one of its stars, Colleen Camp, has a cameo in this film.
The film revolves around Evan Webber (Reeves), an architect married to a successful artist with two children living an idyllic life. When his family goes on holiday without him (due to Evan having to catch up on work), he's greeted by two young women named Bel and Genesis on his doorstep who ask for shelter from the rain. Evan lets them in, sealing his fate.
The two girls then force themselves on Evan before telling him that they're both only 15 and that they now have complete control over his life. Powerless, Evan is forced to take whatever punishment the girls deem appropriate.
---
Tropes relating to this movie:
---