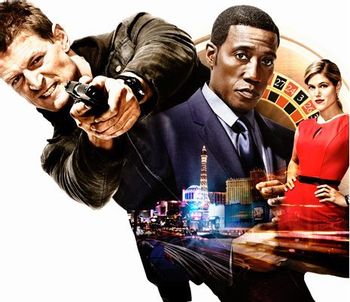 The Player is an action-thriller starring Philip Winchester and Wesley Snipes that began airing on NBC in 2015. It was created by John Rogers (Jackie Chan Adventures, Leverage). Originally scheduled to air 13 episodes, the order was reduced and production shut down after 9 with the show cancelled after the episodes were aired.
There is currently a Twitter campaign to try and find a way for the show to continue
along with an online petition
.
Alex Kane is Las Vegas's premier security consultant, but when his wife is killed he finds himself caught up in The Game, a high-stakes gambling ring that bets on the outcome of violent crimes - crimes that its mysterious, powerful, amoral backers can predict hours or even days in advance. Enticed by Mr. Johnson (The Pit Boss) and Cassandra King (The Dealer)'s offer of getting revenge on his wife's killer, Alex agrees to become "The Player" and "fight crime" for the amusement of the world's rich and powerful.
Soon, though, Alex finds himself suspecting that there's an even broader conspiracy at play and that there's a possibility that his wife is still alive.
The show's character page can be found here.
Not to be confused with the Korean drama series of (almost) the same name, or even the name of a film that satirizes Hollywood.
---
The series provides examples of:
---