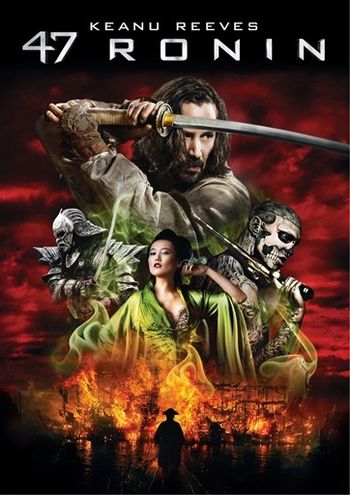 47 Ronin is a 2013 fantasy/action film loosely based on the story of The 47 Ronin. Very loosely.
Outcast from society and enslaved due to being half-Japanese, half-British, a man named Kai (Keanu Reeves) encounters the eponymous ronin, led by Oishi (Hiroyuki Sanada). They, of course, are samurai out to get revenge for the death of their master. His killer, Lord Kira, is allied with a wicked witch (Rinko Kikuchi) who controls supernatural forces threatening the land which Kai and the ronin must defeat.
The first trailer can be seen here.
Despite the film's failure at the box office, a sequel, written by Aimee Garcia and AJ Mendez, is in development for Universal's home media division.
Compare The 47 Ronin, a four-hour epic adaptation of the "47 ronin" story made in Imperial Japan in 1941 and 1942, or Chushingura, a similarly epic 1962 Japanese version in color.
---
Tropes present in this film include:
---