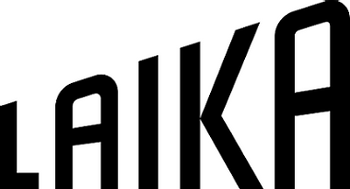 Laika, LLC
is a stop-motion animation studio that creates highly-acclaimed feature films, commercials, music videos and other material. The company is based in Oregon, with studios in Hillsboro and Portland.
The company was founded in 2005 following the collapse and massive reorganization of Will Vinton Studios, with two divisions: Laika Entertainment for feature films, and Laika/house for smaller projects like commercials; later named HouseSpecial, Laika/house animated the They Might Be Giants Animated Music Video Bastard Wants to Hit Me. In 2009, Laika released their first film, Coraline, directed by Henry Selick (The Nightmare Before Christmas, Monkeybone), which was nominated for an Academy Award. In 2012, they released their next feature, ParaNorman, to similar (if slightly smaller) success. This was followed by The Boxtrolls, which was released in 2014, and Kubo and the Two Strings, released in 2016. Their most recent film is Missing Link, released in 2019.
Besides feature films, Laika has also produced commercials for a variety of clients, including Ben & Jerry's, Apple, M&M's and Honda, among many others. Their "Rivalries" spots for Coca-Cola were aired throughout South America, Europe, Asia and the Middle East during the 2006 World Cup. Laika eventually spun off its commercial division in May 2014. In July 2014, company head Travis Knight announced that the studio has considered making a completely hand-drawn animated feature. The medium has been used for special effects in their past features and has been met with unanimous excitement from fans who wish to see a medium that's all but disappeared from American feature animation.
Their first four features were distributed by Universal Pictures, under their Focus Features label. In this regard, Laika functioned as a stop-motion arthouse-level animation studio to go along with Universal's homebase studio Illumination Entertainment and acquired firm DreamWorks Animation. Of course, since Laika isn't owned by NBCUniversal, neither the man who operates Illumination, Chris Meledandri, or DWA founder Jeffrey Katzenberg and current DWA head Bonnie Arnold had any involvement or influence on the studio or its works.
---
Works
<!—index—>
<!—/index—>
Films in development
<!—index—>
Wildwood (based on Colin Meloy's novel)
Seventeen
The Night Gardener
<!—/index—>
Tropes Associated with Laika films