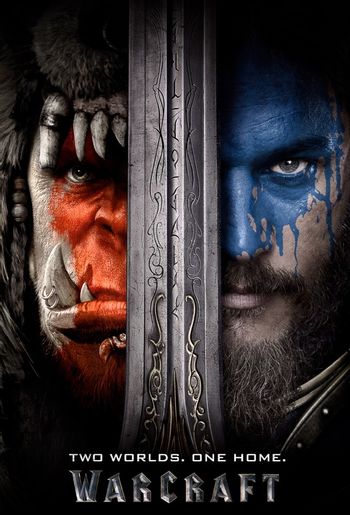 "There has been a war between orcs and humans for as long as can be remembered. But there was once a time when we did not even know who our enemy was. Or what that evil green magic, the Fel, had done to us."
Warcraft (alternatively titled Warcraft: The Beginning) is a film based on the extremely successful Warcraft video game franchise by Blizzard Entertainment; more specifically, it is based on the first title in the series, the Real-Time Strategy game Warcraft: Orcs And Humans.note Technically; while it retells the story of the First Great War that was the focus of the first game back in 1994, it also includes a lot of aesthetics, extra details and backstory never hinted at in said game which were retconned in or fleshed out by later works of the franchise, most prominently Warcraft III and World of Warcraft. It is produced by Legendary Pictures and Universal with Duncan Jones directing. Set primarily on the world of Azeroth, the story follows the events of the First War between humans and orcs as seen through the eyes of the great heroes of both the kingdom of Stormwind and the Horde.
The world of Draenor is dying. Gul'dan, warlock and leader of the Orcish Horde, has a plan — to use deathly magic of fel, fuelled by souls of living creatures, to open a portal to another world. Durotan, chief of the Frostwolf clan, has his reservations, but for the sake of his pregnant wife and his clan, he agrees to joining Gul'dan Horde. The orcs — the one thousand that Gul'dan manages to send through — land in the peaceful realm of Azeroth, where they start to round up humans to reopen the Portal and bring the rest of the Horde to their world.
Defending humans are a care-free commander Anduin Lothar, brother-in-law to king Llane of Stormwind, and young runaway mage Khadgar, who can sense the growing presence of fel in Azeroth. Along with a half-orc ex-slave Garona, the old Guardian of Azeroth Medivh, and Durotan, who realizes that Gul'dan serves the fel rather than the orc race, they try to forge peace and stop Gul'dan as the work on the Portal is nearing closer to completion, threatening to bring in the Horde and doom all of Azeroth.
The film was released on May 26th, 2016 in various territories, specially in Europe, and on June 10th in the USA. The film has a prequel novel titled Durotan, written by Christie Golden.
Previews: Trailer Tease
, Trailer 1
.
---
Warcraft provides examples of:
---