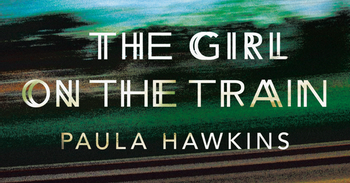 "To everyone else in this carriage I must look normal; I'm doing exactly what they do: commuting to work, making appointments, ticking things off lists.
Just goes to show"
— Rachel Watson
A 2015 thriller by British novelist Paula Hawkins, about a divorced, jobless alcoholic (Rachel) who everyday gets dressed and gets on the train to keep up the charade to her live-in-landlady, Cathy, that she still has a job. On the morning commute she spies out of the window on a seemingly perfect couple, Megan and Scott, and fantasises about their idyllic life. One day, Rachel sees in a newspaper that Megan has gone missing, and she takes it upon herself to discover what has happened to her. Over the course of her investigations, she discovers how her own personal life is linked to that of Megan's, and the danger that means for her...
The novel debuted at number one on the The New York Times Fiction Best Sellers of 2015 list (the combined print and e-book list) dated February 1, 2015,and remained in the top position for 13 consecutive weeks as of the list dated April 26, 2015.
By early March 2015 the novel had sold over 1 million copies, and 1.5 million by April. It has spent 20 weeks at the top of the UK hardback book chart, the longest any book has ever held the top spot.
A feature film adaptation, starring Emily Blunt as Rachel, was produced at DreamWorks and released on October 7, 2016. It was the first film in DreamWorks' distribution agreement with Universal. A Bollywood film adaptation was later produced; it was released February 26, 2021 on Netflix.
---
The Tropes on The Train:
Rachel: I like trains, and what's wrong with that? Trains are wonderful.
---