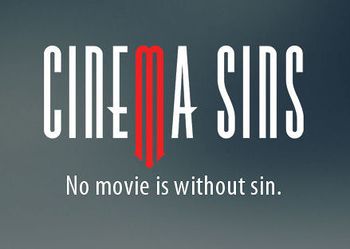 Reading. *ding*
CinemaSins
is a web series created by Jeremy Scott and Chris Atkinson in 2012, dedicated entirely to pointing out the "sins" in movies. Sins include continuity errors, research errors, anything that breaks Willing Suspension of Disbelief, editing mistakes, instances of "Dude, Not Funny!", instances of Idiot Ball or Idiot Plot, Plot Holes, Deus ex Machinas, Logical Fallacies, Continuity Lockouts, overused and misused tropes, or just anything the guys can make a snarky joke or reference to. Currently, there are seven shows playing on the channel (though all but the first appear to have been discontinued):
Everything Wrong With...: Jeremynote points out all the sins in a particular movie.
Conversations with Myself: Through editing, Jeremy has a discussion with Jeremy about a recent movie, including a hint towards the next episode of CinemaSins. Was eventually moved to CinemaSins Jeremy (see below).
Movie Recipes: Came in two seasons with vastly different formats:

In the original run, Jeremy visits the kitchen to make an inedible edible creation, with all the ingredients based on one film.
In the reboot, Jeremy hires a celebrity chef to make an actually good meal with thematic ingredients (again, based on one film), while shooting the breeze with movie trivia.

What'$ the Damage? The guys tally up the monetary cost of all the physical and property damage in a movie, not counting human lives (because "that's just morbid").
Sin Dissection: Further in-depth explanation of a particular movie sin. Only one episode, on the sin "This movie exists", was ever released.
CinemaSins Voicemails — Best of the Hotline: Highlights from the CinemaSins Hotline (405-459-7466, or 405-459-SINN), reenacted by Jeremy or actors.
"How To Make...": A series of videos (made by Bobby Burns) showcasing some of the more regular sins of a particular genre (Michael Bay films, British crime films, slasher films, etc.) as a "how to" video.
In 2014, a second channel was created, CinemaSins Jeremy
. Three series ran on this channel, in addition to Conversations with Myself (which was originally on the main channel):
Dear Hollywood: Jeremy writes a letter to Hollywood complaining about particular trends, suggesting improvements for the industry.
Before & After Movie Reviews: The guys discuss their expectations for a movie while driving to see it, then give a review after having watched it.
Adventures in Audio: Basically like the ending funny audio bits on a Sins video, except applied to good movies.
Later in 2014, they started a third channel, Brand Sins
, with a different format,note Leaning toward social commentary a different host,note the first few by Jes Whitton, later installments by Bobby Burns and the same nitpicking. This channel was discontinued in early 2018.
Then in 2015, they made channel number 4, Music Video Sins
, which is just Cinema Sins with music videos. This channel was originally narrated by Jeremy as well until late February 2020, when writer Barrett Share took on the role. The final episode of this series was uploaded in December 2021.
In late March/early April 2015, they added a fifth channel to their lineup called Couch Tomato
. This channel was created and narrated by someone originally not affiliated with Sins Medianote The original parent company of CinemaSins. They have since branched away from the CinemaSins brand again, although both operate under CinemaSins' new parent company, Made In Network.; their videos are part of a series called 24 Reasons, which are film comparison videos with "twenty-four reasons why a newer film is similar to an older film" (or to put it another way, taking two movies with similar plots and wording the comparison to imply they have the exact same plot).
On September 6th, 2018, two things started: 1) They re-uploaded Captain America: The First Avenger, with an announcement at the beginning saying that over the years, certain videos disappeared for some reason or another. In previous years, September would be a half-hiatus, with one new sin video a week. They decided to start re-uploading the disappeared videos, with re-uploads making up the normally-new Thursday video, and adding them on Saturdays. After September was over, they went back to the Tuesday/Thursday new videos schedule, keeping Saturday for re-uploads until they were all caught up. The second thing that started was the TVSins
channel, with the first video being the Game of Thrones pilot. In May 2020, narration for these videos was taken over by writer Aaron Dicer.
In 2021, the channel Commercial Sins
was created, which points out sins in TV commercials. This series is narrated by Chris.
The channel itself can be accessed on YouTube here
and their official website
.
For the much more optimistic parody channel, see Cinema Wins.
---
Tropes picked apart by the Everything Wrong With series:
open/close all folders
Tropes #-C
Tropes D-F
Tropes G-J
Tropes K-O
Tropes P-R
Tropes S-Z
---
Tropes applying in general to CinemaSins productions:
open/close all folders
Tropes A-B
Tropes C
Tropes D-H
Tropes I-R
Tropes S-Z
---
TV Trope Tally:
350
Sentence:
Permanent Red Link Club
🔒
---