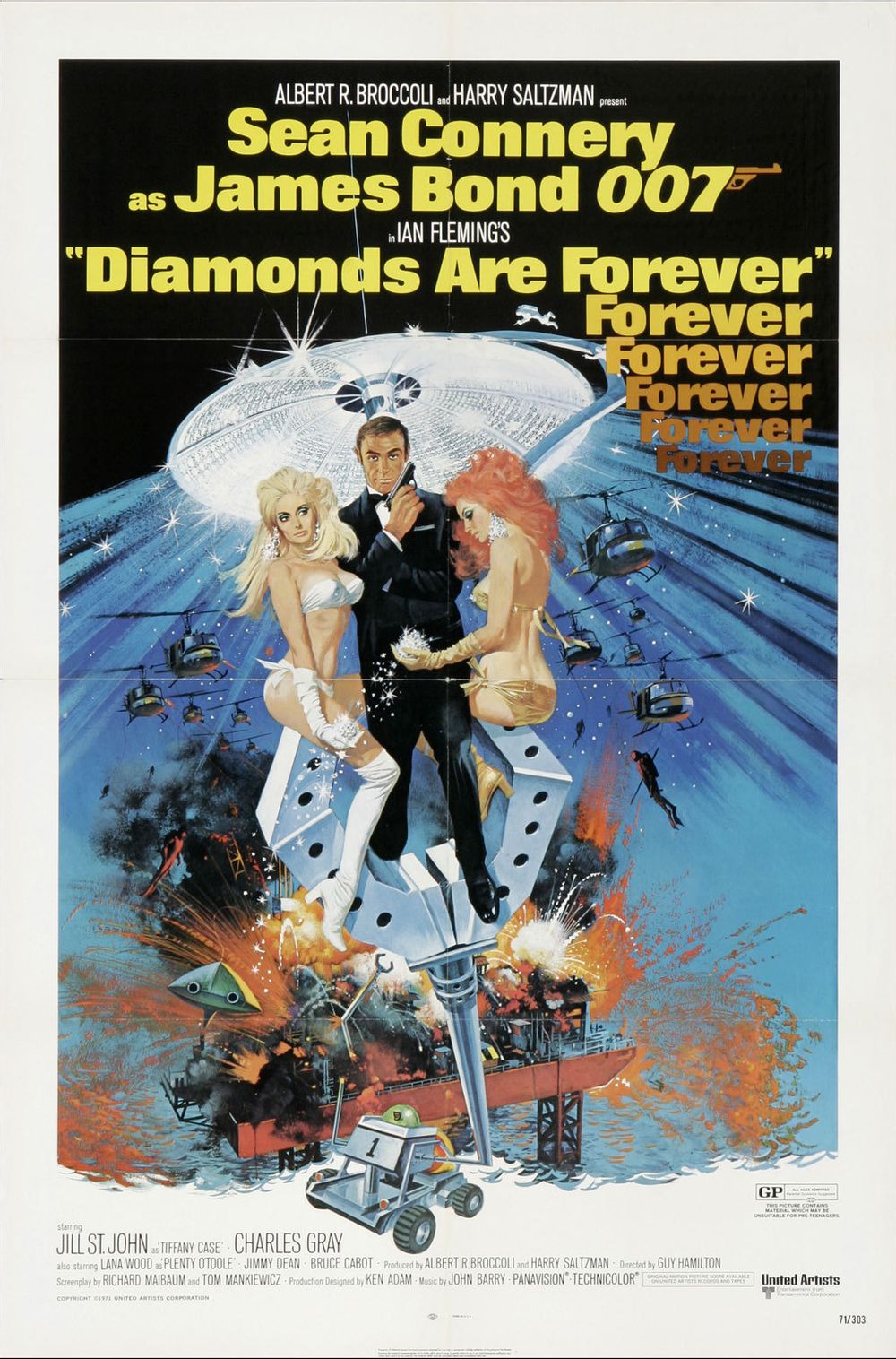 "Curious... how everyone who touches those diamonds seems to die."
— Mr. Wint
The One Where Sean Connery came back (for the last time in the official series).
Diamonds Are Forever is the seventh Eon Productions James Bond film, the second to be directed by Guy Hamilton and the last to star Sean Connery, coming out in December 1971. Shirley Bassey performed the Title Theme Tune for the second time in the series.
After Bond kills Blofeld in the opening sequence, he is assigned to an international diamond-smuggling case. A huge amount of diamonds have been stolen from the South African mines and two Camp Gay assassins are killing everyone in the smuggling ring ladder, rung by rung. Bond infiltrates the group by managing to kill smuggler Peter Franks and poses as him in an effort to find out what is going on. He discovers that the head of the smuggling ring is none other than a not-so-dead-after-all Ernst Stavro Blofeld, who found a way to create doubles of himself through plastic surgery. The diamond smuggling is revealed to be part of a plan by to build a Kill Sat and hold the world hostage.
Of note, Sean Connery, who felt he was done with the series after You Only Live Twice, was lured back to playing Bond by Eon Productions thanks to a massive paycheque after the turmoil caused by George Lazenby's departure after On Her Majesty's Secret Service. He used half of it to establish a charity to support deprived children in Edinburgh. When asked if he would ever play the character after this, Connery replied "Never again." This later served as inspiration for the title of the non-Eon produced Bond film Never Say Never Again in which Connery reprised the role one last time.
Preceded by On Her Majesty's Secret Service and followed by Live and Let Die, with Bond now played by The Saint himself, Roger Moore.
---
Tropes Are Forever:
---