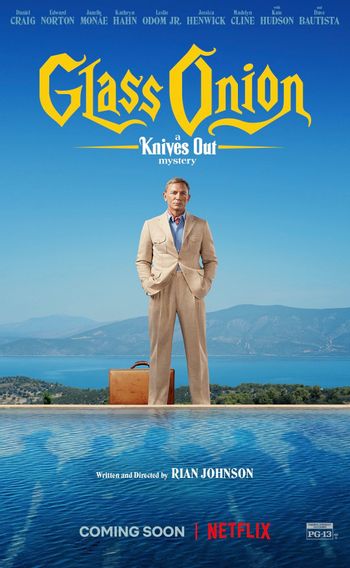 "You expected a puzzle. But for one person on this island... this is not a game."
— Benoit Blanc
Glass Onion (also known as Glass Onion: A Knives Out Mystery) is an upcoming 2022 murder mystery film directed and written by Rian Johnson. It is the follow up to, as if the subtitle didn't give it away, Johnson's acclaimed 2019 hit Knives Out.
Daniel Craig returns as the Great Detective Benoit Blanc, alongside an All-Star Cast once again including Janelle Monáe, Edward Norton, Kathryn Hahn, Jessica Henwick, Dave Bautista, Leslie Odom Jr., Kate Hudson and Madelyn Cline.
The film is set to be released by Netflix on December 23, 2022 following a limited theatrical release in November of the same year. It also screened at the 2022 Toronto International Film Festival.
Previews: Netflix 2022 Movie Preview
(as Knives Out 2), Teaser
, Tudum Clip
---
Glass Onion: A Knives Out Mystery contains examples of:
---
"Lock the doors. Stay in your rooms. Everyone is in danger."