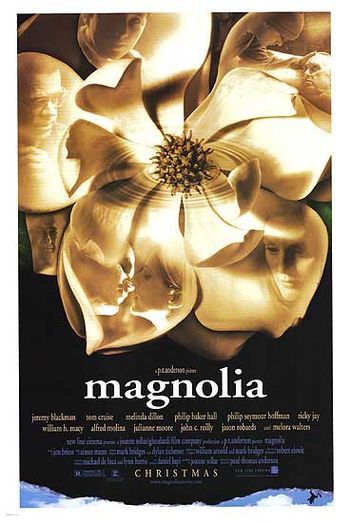 "There is the story of a boy genius, and the game show host, and the ex-boy genius.
There is the story of the dying man, his lost son, and the dying man's wife, and the caretaker.
And there's the story of a mother, and the daughter, and the police officer in love.
And this will all make sense in the end."
—
The Narrator
(Ricky Jay),
Trailer
Magnolia is a 1999 drama film written and directed by Paul Thomas Anderson about dysfunctional people in Los Angeles, partly inspired by the songs of Aimee Mann. The film is known for focusing on a large number of characters through a series of interlocking stories, being over three hours long, having possibly the most non-sequitur third-act twist of all time, and getting Tom Cruise an Academy Award nomination.
The All-Star Cast includes Cruise (Frank T.J. Mackey, producer of really sleazy pick-up-artist tapes), John C. Reilly (Jim, a kindly LAPD beat cop), Jason Robards in his last role (Earl Partridge, dying of cancer), Julianne Moore (Earl's wife Linda), Philip Seymour Hoffman (Earl's hospice nurse Phil), Philip Baker Hall (Jimmy Gator, host of TV children's quiz show "What Do Kids Know?", which is produced by Earl Partridge), Melora Walters (Claudia, Jimmy's troubled daughter), William H. Macy (Donnie Smith, former champion of the show 30 years ago), and Jeremy Blackman (Stanley Spector, current champion of the show).
A 30-year-old Patton Oswalt appears as Delmer the blackjack dealer in one of the opening vignettes.
The title refers to the flower, which have many petals going off in different directions, but which are all connected in the back.
Character tropes go on to the Characters Sheet.
---
Tropes include:
Reckless Gun Usage: The mother with the rifle in the prologue who is killing her son thanks to this trope.
Recycled Soundtrack: Aimee Mann's "Wise Up" was originally written for Jerry Maguire, and several of the other songs were meant for her album Bachelor No. 2, which was recorded before the movie but due to record-company problems not released until afterwards.
---