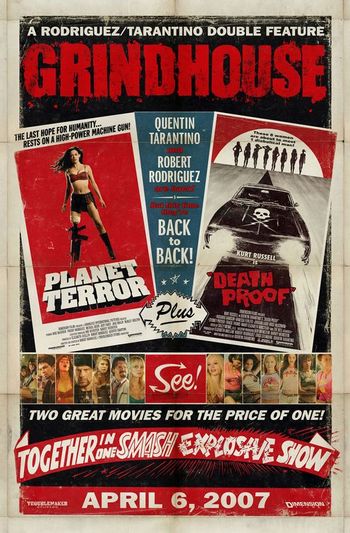 Grindhouse is a 2007 Double Feature film by Robert Rodriguez and Quentin Tarantino. It affectionately parodies 1970s B-Movies complete with "Coming Attractions" and in-betweener cartoons.
In Rodriguez's movie, Planet Terror, a military transaction goes awry and an experimental poison gas is released on a small town in rural Texas, turning the unsuspecting civilians into bloodthirsty zombies. The only people who can stop them are a go-go-dancer with a gun for a leg, her expert gunman ex-boyfriend, a pair of crazy babysitter twins, a shellshocked doctor, a Jerkass cop, a crusty sheriff, a scientist obsessed with balls, and many other trailer-park freaks from deep in the Heart of Texas.
In Tarantino's movie, Death Proof, a stuntman uses his small fame to pick up girls, then kills them with his car. Little does he realize that a few of his second bunch of victims are stuntwomen... and among them is Zoë Bell (playing herself), who also doubled for Uma Thurman in Kill Bill in real life. Boy, is Stuntman Mike in for a world of hurt...
The double feature also included several fake movie trailers, a few of which were actually invokedmade into real movies:
And in some select theaters:
---
It was called the Grindhouse, movies featuring unbridled sexuality and hardcore tropes:
---
And Nicolas Cage as..... Fu Manchu!!