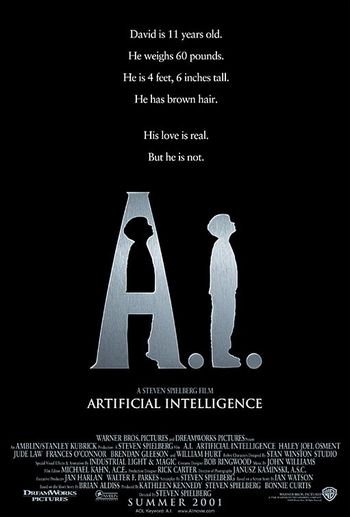 "…They made us too smart, too quick, and too many. We are suffering for the mistakes they made because, when the end comes, all that will be left is us…"
— Gigolo Joe
A.I.: Artificial Intelligence is a 2001 American Science Fiction film written and directed by Steven Spielberg. Adapted from the Brian Aldiss short story "Super-Toys Last All Summer Long", the film notably originated as a project by Stanley Kubrick before he eventually personally handed it over to Spielberg.
In the 22nd century, global disasters have drastically reduced the human population. In an effort to maintain human society, humanlike androids called mechas are developed and programmed to simulate humanlike behavior and emotions. Among them is an advanced prototype named David (Haley Joel Osment), a child robot with the ability to virtually feel love, rather than simulate the appropriate behaviors.
The Cybertronics company tests out David on two of its workers, Henry and Monica Swinton, whose son Martin has been placed under suspended animation until a cure can be found for his rare disease. Though Monica is initially afraid of this artificial child, she eventually warms to him after activating his imprinting protocol, which irreversibly causes him to feel love for his new "mother".
However, disaster strikes after Martin is cured, leaving David cast off and alone with his mechanical teddy bear companion Teddy, searching for his place in the world, ultimately embarking on a journey to find his own humanity alongside Gigolo Joe (Jude Law), a "love mecha" also on the run after one of his clients is killed.
A.I. had started development under Kubrick in the early 1970s, with him hiring a long series of writers to try to bring his vision to life (even Aldiss himself), but it languished in Development Hell for years due to the limitations of CGI, which Kubrick believed would be necessary to bring the childlike robot hero to life. Eventually, the film's treatment was written by Ian Watson (of Inquisition War fame), and in 1995 Kubrick gave the role of director over to Spielberg, believing it to be closer to his directorial taste. The film was then put on hold due to Kubrick's commitment to Eyes Wide Shut, and would not be properly restarted with Spielberg leading until Kubrick's death in 1999. In addition to directing, Spielberg also wrote the screenplay from Watson's treatment, making A.I. one of only three films he wrote as well as directed (the others being Close Encounters of the Third Kind and The Fabelmans).
In a rather interesting footnote in video game history, an officially licensed game based on this film was considered at one point as an initial launch title for the original Xbox, which was released the same year as the film. Due to the massive amount of media attention given to the film, Microsoft even considered making the proposed game the primary tentpole title for their new console. But when the game was cancelled, they were forced to pin their hopes on a different game instead—ultimately settling on a certain first-person shooter that you may have heard of.
---
This film contains examples of:
---