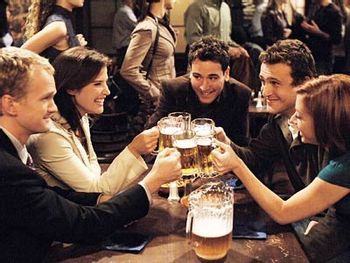 Future Ted: Kids, I'm gonna tell you an incredible story—the story of how I met your mother.
Ted's Son: Are we being punished for something?
Future Ted: (confused) No.
Ted's Daughter: Yeah, is this gonna take a while?
Future Ted: Yes.
In the year 2030, Ted Mosby recounts to his kids the story of how he and their mother met and fell in love. Although each episode is ostensibly an important step on the way to Ted meeting "The Mother," it seems Ted is the kind of person who uses this basic premise as an excuse to ramble off onto hundreds of other, completely unrelated anecdotes. For nine seasons' worth of episodes, Ted discusses the modern-day in a nostalgic way and describes the strong bond between Ted and his group of friends.
In the year 2005, Ted (Josh Radnor) is an architect living in New York with his best friend, aspiring lawyer Marshall Eriksen (Jason Segel). When Marshall announces that he is getting engaged to his college sweetheart, Lily Aldrin (Alyson Hannigan), it prompts Ted to take an introspective look at his life and decide that he is finally ready to settle down and start searching for "The One," much to the disgust of his "best friend" and serial womanizer Barney Stinson (Neil Patrick Harris).
Enter Robin Scherbatsky (Cobie Smulders), a TV news reporter from Canada with whom Ted falls in love at first sight and manages to scare off just as quickly. Though she is affirmatively not the destined Mother of Ted's future children, she befriends Lily and goes on to become an integral part of the group. Over the next decade, the five friends struggle with romance, careers, lost dreams and lives that did not turn out the way they expected, but in retrospect led them all to the ending they hoped for.
This sitcom uses its Framing Device and narrator (Bob Saget, uncredited) to surprisingly good effect, admitting to parts where the narrator honestly had no first-hand recollection of the events, doing very swift flashbacks to build up to a punchline or events are recalled out-of-order in order to create twists and surprises that achieve maximum impact (every method can be seen in the memorable episode "The Pineapple Incident"). In other episodes, the framing device allows Ted to retell stories involving foul curse words or drugs by substituting each with an Unusual Euphemism for his children's benefit.
The show at first feels very similar to a regular sitcom but is actually a mixture of both single camera and three cameras. There is extensive outdoor location filming in addition to the regular sitcom-style sets. The narrative gimmick gives the show an edge in allowing them to portray a fairly complex universe of seemingly unimportant events and myriad callbacks. The show went 9 seasons, covering the years 2005-2013. The first eight seasons were contemporary and in approximate Real Time. The last season centered around the weekend Ted and the Mother met, although utilizing plenty of the show's standard Anachronic Order of events.
A spinoff named How I Met Your Dad was announced as a gender-flipped version of the show fall of 2013, following unrelated characters and produced by the same people. A pilot was shot but was not picked up.
You can also vote for best episodes here
.
---
Get ready for the series' tropes cause they're LEGEN—wait for it…
open/close all folders
A-C
Complexity Addiction: Barney often inexplicably comes up with incredibly elaborate and complicated schemes and solutions, completely overlooking the fact that there's a far simpler solution right in front of him.

When he and Ted are trying to determine which of them is better with women, he suggests a several month multi-round international championship with a panel of judges. Ted suggests they pick one woman and see who she goes for.
In "Something Borrowed" when Marshall shaves part of his head right before his wedding, Barney and Ted's best idea to cover it is an "authentic Native American headdress." When Lily is informed of the problem, she finds Marshall a hat.

Marshall: "HAT. We thought of authentic Native American headdress before we thought of HAT."

In "No Questions Asked", Ted, Barney and Robin all came up with overly complicated ways to sneak into Lily's room. Looks like they watch too many action movies

Marshall: "Easy. The lock on her door is busted, so…"

Compressed Vice: Frequent. The episodes "Intervention" and "Spoiler Alert" establish at least one of these for every character (though notably, "Spoiler Alert" mostly called out existing flaws for most of the characters).
Connected All Along: The entire reason Ted starts the story 8 years before he met Tracy is because of this. The seemingly random events, even stuff we thought got settled all those years ago, it all informs the story of that last weekend and everyone's lives. That's why the story had such long scope.

It's revealed throughout the course of the show that Ted and Tracy crossed paths numerous times throughout the series: Ted accidentally taught the wrong college class once, and Tracy was in it; Tracy was at a St. Patrick's Day party that Ted attended; etc. They never actually met because it simply wasn't the right time. They both had to get to a place where they were both really ready to be someone else's one and only. Had they met sooner, it wouldn't have worked out well.

Continuity Lockout: Given the amount of continuity, callbacks, references and plotlines the show has have over its run it's all but inevitable for this to occur on some level. However, steps are taken to simplify things and catch new viewers up. The framing device allows for a lot of concessions for this take, such as Ted specifically reminding his children about past events ("Remember when I said…" is frequently used). On the whole, the episodes are self-contained and don't run together very tightly even with seasonal subplots running along. The built-in narrator prevents the need for "Previously On…" segments and sometimes even the "As You Know" info-dump includes information that hadn't been revealed in a previous episode anyway (such as in "Nothing Good Happens After 2AM" regarding what happened to Robin during the previous episode). Longtime viewers are rewarded with subtle details that they can catch while newer viewers aren't completely oblivious to what is going on.
Continuity Nod: All the time, as the creators do a lot of planning ahead due to the multiple flashback nature of the show. In an interview, they revealed that while shooting Season Two, they also shot a scene that they don't plan to use until the series finale.
Continuity Porn: So, so, so much. Pretty much every single episode has at least a few callbacks to previous episodes, the show is rife with unlampshaded running jokes, and sometimes events in an episode will explain or go into detail about a scene or line of dialogue from a previous one (e.g., pretty much everything involving Marshall, Ted, and Lily's college years). Word of God tells us that their greatest regret was Narrator!Ted saying they never learned where the pineapple came from.
Continuity Snarl: The unique storytelling format of the show comes in handy since it is easily possible that episodes overlap or may not even be in complete chronological order. After all, "old Ted" is just telling his kids a story and it is shown that he alters the story (how he got over

Robin's rebound boyfriend Gael

) or leaves out details (the dirty joke, Victoria's story in "Game Night"). Sometimes he even makes mistakes, as he was close to telling the story of the goat in the middle of a different story that happened a year before.
Cool Teacher: Ted's students are really fond of him. Well, once he finds the right room. Ted possibly stops being a cool teacher when

Zoey turns his students against him and he delivers the ultimatum of failing anyone who skips class

.
The Couch: Both in Ted and Marshall's apartment and in the bar downstairs.

Since Marshall and Lily bought their apartment, an increasing number of episodes play there as well.

Couch Gag: In syndication, every episode ends with a different rule from the Bro Code.
Couple Theme Naming: Ted Mosby is the hero of the story, telling his kids how he found the love of his life and their mother. The mysterious woman is revealed to be called Tracy McConnell and has the same initials as Ted.
Cradle of Loneliness: Lily is shown holding a pillow dressed in Marshall's clothes while he's away.
Cross-Referenced Titles: Hoooooo doggy.

The last two season 2 episodes "Something Borrowed" "Something Blue" and the last two season 8 episodes "Something Old" "Something New" are references to the famous tradition for weddings. The season 2 ends with the wedding of Marshall and Lily while season 8 ends with the preparations for the wedding of

Barney and Robin

.
"Slapsgiving", "Slapsgiving 2: Revenge of the Slap" and "Slapsgiving 3: Slappointment in Slapmarra" all involve Marshall giving a slap to Barney because the latter lose a bet.
Season one episode "The Slutty Pumpkin" and season 7 "The Slutty Pumpkin Returns" both has the girl who dresses as a sexy pumpkin for Halloween.
Season 7 episode "Good Crazy" and season 8 episode "Bad Crazy".
Season 2 episode "First Time in New York" and season 9 episode "Last Time In New York".

Curse Relay: In Blitzgiving, the curse of the Blitz afflicts whoever leaves their friend group before the night is over. The curse will cause awesome things to only happen after the Blitz leaves the room. The curse is passed when another member of the group leaves early.
D-F
A Day in the Limelight: Despite Ted being the main character and narrator, the show is generally more of an ensemble instead of focusing solely on Ted. Despite this, several episodes are structured slightly different to highlight other characters narrating the story in some fashion. Season 5 had "Perfect Week" where Barney imagines an interview with a sports commentator on his attempts at 7 for 7 one-night stands. Season 6 had "Oh, Honey" where Marshall is learning about Ted's complicated situation with Zoey via multiple phone calls while staying with his Mom (and ultimately gathers all the pieces of the puzzle). Season 7 had "Symphony of Illumination" where Robin takes over narrating the story from the future, though it does have future Ted take over at the end. The final season has an episode devoted to the titular Mother, although again, Ted does take over right at the end (other than that one scene with Ted, and a setup shot with Ted and Barney, none of the regular cast show up at all).
Deadpan Snarker: Future Ted has a tendency to immediately deflate Ted's promises, among other things
Death Glare:

Lily's "you're dead to me" look.
Also, Robin's angry stare (Don't ever take a picture of it… she will punch you. And you will cry. For the third time. That night.)
G-I
The Gambling Addict: Barney. Apparently, he used to think that gambling was for suckers until Marshall convinced him to take a $1 bet on a play at the Super Bowl. Barney instantly becomes enraptured.
Games of the Elderly: Lily likes to imagine her and Marshall playing bridge with their friends in their old age. However, Lily has no idea how to play bridge, so she makes up the rules in her imagination.
Gender-Equal Ensemble: Despite being a Five-Man Band with Two Girls to a Team for most of its run, there are only six main characters throughout the show's history. The titular mother was Promoted to Opening Titles in the final season.
Gentle Giant: Marshall is a fairly big guy and based on that alone can be fairly intimidating, but he is one of the mildest and friendliest people you could imagine.

Marshall's whole family is this - he is shorter than his father and all his brothers, and even his mom is over 6 feet. They can be violent around each other in their family games, but other than that they are all mild-mannered and kind individuals.

Germans Love David Hasselhoff:

In-Universe, autotune remixes of Ted's wedding speech meltdowns were surprisingly popular in Finland. A bunch of his "fans" even took the effort to come to Punchy's wedding to watch him in action.
A literal example shows up in season 7's "Field Trip". Ted takes a group of students out for a field trip, and they somehow manage to pick up a German family. Ted and Barney decide to use their diverse group to do some polling, and ask who among them likes the 'Hoff; nobody but the Germans raise their hands.
The Wedding Bride (the movie loosely based on Ted and Stella's story) is so popular all over the world that it's well known even in North Korea (it's Kim Jong's second favorite movie).
Good Angel, Bad Angel: At a Halloween party Barney (dressed as a devil) and another guest (dressed as an angel) argue about whether or not Ted should urinate from the roof... at least until the angel asks Ted and Barney for marijuana.
J-L
M-O
P-R
S-U
V-Z
Season-specific tropes
---