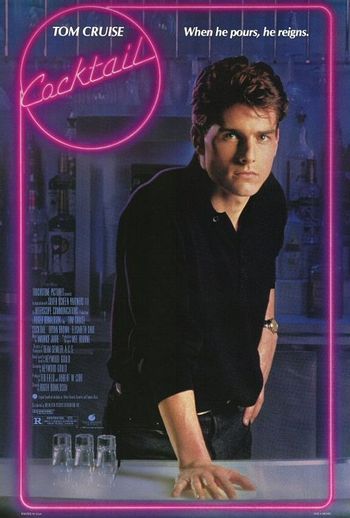 There's no better way to make it than behind three feet of mahogany.
A 1988 film from Touchstone Pictures starring Tom Cruise, Elisabeth Shue, and Bryan Brown. Cruise plays Brian Flanagan, a former soldier returning home to New York City. Brian hopes to make it big on Wall Street, only to be told by every investment firm in town not to waste his time. He has no college education, no job prospects, and no future. His part-time bartending job becomes his only option. But even becoming one of New York's top bartenders won't make him a millionaire. What might? Marrying a rich woman...
His outlook on life changing, Brian heads down to Jamaica where the money is flowing. There, despite early protests against falling in love, he meets the girl who will change everything.
---
This film provides examples of:
---