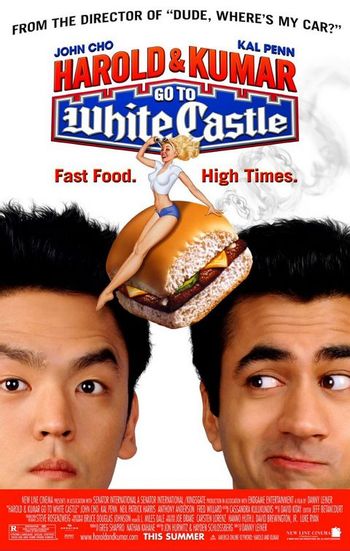 Kumar: No matter what, we are not ending this night without White Castle in our stomachs. Agreed?
Harold: Agreed!
A well-loved Stoner Flick with elements of classic Screwball Comedy, Harold & Kumar Go to White Castle (known as Harold and Kumar Get the Munchies in some countries that do not have White Castles) captivated audiences in 2004 with its simple premise and the wild hilarity that comes with trying to accomplish said premise.
Harold Lee (John Cho) and Kumar Patel (Kal Penn) are two New Jersey natives with problems. Harold is an uptight investment banker who is taken advantage of by his douchebag co-workers, tormented by racist extreme sports enthusiasts, and cannot work up the courage to talk to his hot neighbor Maria; Kumar is being pressured by his dad to attend medical school when he would rather relax and smoke a bowl.
After getting high and seeing a commercial for White Castle, the duo decide to travel to the nearest White Castle in Cherry Hill for burgers. Unfortunately for them problems—some caused by their own actions, most by events outside of their control—arise to stop Harold and Kumar from reaching their goal.
Harold and Kumar Go to White Castle is notable for taking what were normally the ethnic sidekick character types of most teen stoner comedy flicks and making them the stars. As such, the movie gets a lot of mileage out of making fun of ethnicities and other people's perceptions of different races.
The movie is also notable for bringing Neil Patrick Harris back into the spotlight. Playing a womanizing, Ecstasy-addicted version of himself for a couple of scenes, audiences were reminded that good ol' NPH can do things besides Doogie Howser. Studios quickly picked up on that, and the rest is history.
This movie was followed by two sequels, Harold & Kumar Escape from Guantanamo Bay in 2008, and A Very Harold & Kumar 3D Christmas in 2011. Please put tropes appropriate to those movies on their pages.
It is entirely unrelated to Harold and Maude.
---
This movie contains examples of:
Spoiler Title: Just from the title alone, you know that Harold and Kumar will go to White Castle.
Stoner Flick: One of the most prominent flicks in the genre.
---