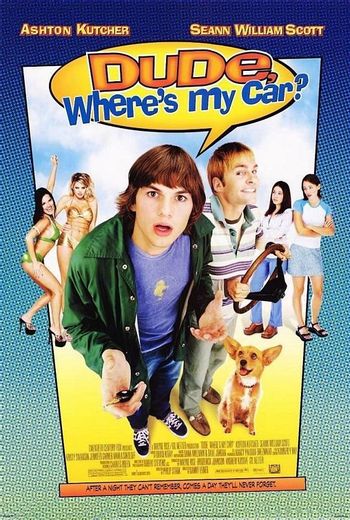 Dude, Where's My Car? is a 2000 comedy film directed by Danny Leiner, starring Ashton Kutcher and Seann William Scott.
It is about the journey of two young men named Jesse (Kutcher) and Chester (Scott) to find their stolen car and figure out what happened the night before after waking up with a whole refrigerator full of pudding. This is the least unusual thing that happens in the story. It is a stoner film, although technically only one of the film's characters, a dog, is seen smoking marijuana. But they are referred to as stoners, and their alter egos are allegedly Johnny Potsmoker and Smokey McPot, respectively. The shenanigans they get into were also directly related to them being blazed out of their minds.
The film received poor reviews from critics, but was a modest box-office success, and has developed a large cult following, especially after its DVD and home video release.
The title of the film, originally a reference to The Big Lebowski, has become a benchmark of popular culture of the time of its release. It is referenced widely in many different situations, an example being Dude, Where's My Country?, the title of a political book by Michael Moore criticizing the way Bush was leading America in the aftermath of 9/11.
Not even this website is immune. For the trope for situations where characters misplace their motor vehicles, see Dude, Where's Our Car?. It also inspired the names of two other tropes, Dude, Where's My Respect? and Dude, Where's My Reward?.
---
"Dude, where are my tropes?" "Where are your tropes, dude?"
Rescue Equipment Attack: Played for Laughs. Jesse gestures to Chester to smash the two men wearing bubble wrap jackets with a fire extinguisher. Chester doesn't understand, so Jesse grabs the extinguisher himself and knocks them both with it.
---