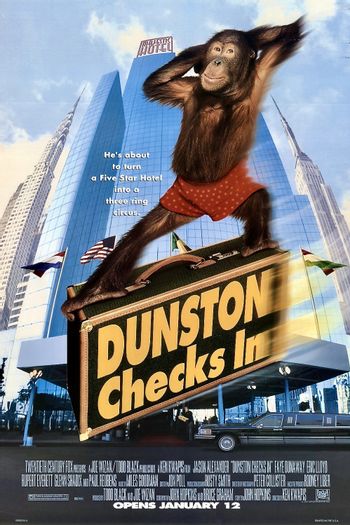 "He's about to turn a Five Star Hotel into a three ring circus."
Written by John Hopkins and Bruce Graham, Dunston Checks In is a 1996 American comedy film directed by Ken Kwapis. The movie stars Jason Alexander, Eric Lloyd, Faye Dunaway, Rupert Everett, Paul Reubens, and Glenn Shadix with Bob Bergen providing the vocal effects for Dunston.
As the beleaguered manager of the luxurious Majestic Hotel in New York City, Robert Grant (Alexander) deftly juggles keeping the place in order with controlling his two troublesome and mischievous sons as he prepares for the hotel's upcoming annual Crystal Ball gala. Things get still more complicated when the establishment's snobbish owner Mrs. DuBrow (Dunaway) shows up bearing unwelcome news: A Le Monde travel association critic, going undercover as a guest, is planning to award a coveted sixth star to the most elite five-star hotels in the world. If Robert does well, he might get a promotion and some time off to take his sons on vacation – but if the Majestic doesn't get the sixth star, he'll lose his job.
Then jewel thief Lord Rutledge (Everett) checks into the hotel in hopes of stealing valuables with his specially trained orangutan, Dunston. After fleeing his malevolent master, Dunston inevitably causes mayhem wherever he goes. Eventually, he meets Robert's younger son Kyle (Lloyd), with whom he soon forms a close bond. Unfortunately, things get much more difficult when Robert catches sight of Dunston and calls in the determined but inept animal control officer Buck LeFarge (Reubens) to get rid of the orangutan.
---
This movie provides examples of:
---