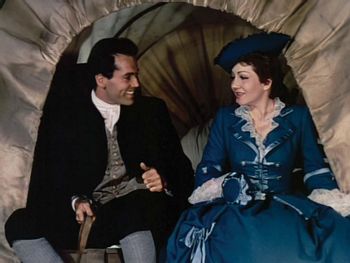 Drums Along the Mohawk is a 1939 Techicolor film starring Henry Fonda and Claudette Colbert, and directed by John Ford.
The movie opens with the wedding of Gilbert and Lana Martin in Albany, New York, in 1776. Gilbert and Lana leave her family's fancy mansion for his much more rustic farm in the vicinity of Deerfield. Lana has some culture shock at first but adjusts to country life and soon is working the farm as hard as Gilbert is.
However, The American Revolution has broken out, and Gilbert has joined a New York militia company. A local Tory, Caldwell (John Carradine) leads his force of Mohawk Indians to the Martin farm, which they burn to the ground. With their farm in ashes, Gil and Lana get jobs working the farm of a local widow. They settle in there, and Lana has a baby.
The war is still raging, and Gil's militia outfit goes off to fight the enemy. Half of them are annihilated at the Battle of Oriskany, but Gil survives and makes it back to Lana. Caldwell leads another, larger British/Indian invasion force in an attack on the valley, and the locals hole up in Fort Herkimer. With ammunition running low, Gil leaves the fort and makes a desperate run for help.
---
Tropes: