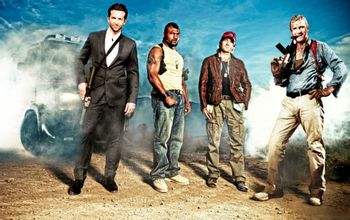 "There is no Plan B."
The film adaptation of The A-Team series, written and directed by Joe Carnahan and released in 2010.
The film follows the Ragtag Bunch of Misfits from their roots when they come together pulling off a mission against a drug lord in Mexico. They become a legendary "crack commando team" running operations that regular military teams can't do. Col. John "Hannibal" Smith (Liam Neeson) is the leader, the Man with the Plan. Lt. Templeton "Face" Peck (Bradley Cooper) is the charmer, point man and has been with Hannibal longer than the rest. Cpl. Bosco "B.A." Baracus (Quinton Jackson) is the machine savvy bruiser of the team. And Capt. H.M. "Howling Mad" Murdock (Sharlto Copley) is their (possibly insane) Ace Pilot.
Eight years and "80 successful missions" later, a complicated series of events put them in a very delicate operation to recover U.S. minting plates and several million dollars printed by them. Upon a successful completion, their commanding officer General Morrison (Gerald McRaney) is killed by a car bomb and the plates stolen, along with the money being torched.
Because of how classified the mission was, Morrison was the only one who could verify their story and they effectively look like bank robbers and conspirators with a rival mercenary group. They are charged with war crimes, stripped of their rank and sent to prison. But even that isn't enough to stop them, as six months later they break out of prison with the help of a CIA operative and set out to clear their name. This involves tracking down the location of the plates, the PMC leader who framed them, plenty of collateral damage, and the A-Team Montage.
---
Contains the following tropes:
Badass Boast: Hannibal's line when he's in prison:

Hannibal "Give me a minute, I'm good. Give me an hour, I'm great. Give me six months, I'm unbeatable."

One ad for the movie changed this to "Give my team an hour, we're unbeatable."
Brock Pike,

before he puts down two incompetent rogue CIA agents and proceeds to wreck Face's plan

:

Pike "Okay, paintballers. Time to go pro."

Badass Creed: Hannibal recites the Ranger Creed to B.A. to convince him to help.
Baddie Flattery: Pike engages in this on occasion, such as when he and Face were stuck in a firefight with each other:

How are you doing, handsome? Shit, can you cycle that weapon. Nice work.
Beyond the Impossible: Pulling off crazy plans that shouldn't be physically possible is the A-Team's entire shtick, but the "flying a tank" scene in the movie deserves special mention. This is actually lampshaded just before the armored car heist.

Random soldier: You think those clowns could really pull this off?
Agent Sosa: Listen, listen, listen; I would never tell him this, but they are the best clandestine unit in the four branches, and they specialize in the ridiculous!

Big Damn Heroes: Pike has Face dead to rights, gun trained on him, no ammo or help in sight...then here comes Baracus like a bat outta hell, crashing a motorcycle to waste the rest of Pike's clip, then proceeding to lay the mother of all spine-busters on him. He ain't gettin' up from that one, folks.

Face: Ohohoho! BOSCOOOOO!!!

Black and Nerdy: B.A. Baracus is a surprisingly eloquent Gadgeteer Genius who loves reading and philosophy (especially Gandhi)... and will also pile driver your sorry ass, fool.
Borrowed Catchphrase: Not only does Face get to go "I love it when a plan comes together", he's biting a key instead of a cigar.
Brick Joke: Murdock stitches up B.A. in the opening sequence. Towards the end, B.A. makes a comment about it being his turn to stitch Murdock up.
Brief Accent Imitation: Murdock, constantly.
Bunny-Ears Lawyer: Murdock is batshit insane, but he's the best goddamn pilot you'll ever find.
The Cameo:

Director and co-writer Joe Carnahan appears as the man who meets Hannibal, Face and B.A. in Mexico outside the hospital Murdock is being held.
Jon Hamm as

The second Lynch

.

Car Fu: In the first plot to steal the plates, later used by Hannibal to

save Pacifist Baracus from shooting Pike.

Car Meets House: When the team

breaks Murdock out of the military hospital in Germany

.
Chekhov's Skill: You might be inclined to think that Face uses his skill at running a shell game just to illustrate a point about how people think...It's actually a rather more literal part of The Plan.
The Chessmaster: To Hannibal, being a mere one step ahead of your enemy is an Indy Ploy. If you're at least three steps ahead, then you've got a plan. Made more awesome by the fact that he often only needs as much time to come up with a plan as others would an Indy Ploy.

Note that his plans still can and at times do go wrong, for example the seaport scene

, where the team only avoided having to fight their way through the security due to Murdock and B.A.'s unspoken understanding of foreign cultures- they are to disguise themselves as a rabbi and a Tanzanian citizen, respectively, but manage to assume each others' "identities" convincingly when it turns out that Face gave them the wrong passports. Even Hannibal comments afterward, "There is a God"

.

Chivalrous Pervert: Face. There are several hints suggesting that Face does do genuine favors when possible.
Clear My Name: The main reason for the A-Team to take up the job offer.
Cloud Cuckoolander: Murdock provides some REALLY wonderful commentary in just about every situation.
Cluster F-Bomb: Hannibal

in the gag reel during a briefing. It upgraded the Blu-Ray release from a 12-Certificate to a 15.

Cool Versus Awesome: Tank versus two Reaper UAVs...in midair.
Court-martialed: The beginning is caused by the team being tried for a disastrous covert operation that resulted in the

apparent

death of a general, dishonorably discharged, and imprisoned.
Crazy Enough to Work: Hannibal's plan to steal the plates from Baghdad is described by Murdock, of all people, as "batshit insane".
Cruel Mercy: Despite Lynch's promise to clear his name and those of his team, Hannibal ultimately decides against killing

Morrison

as originally agreed upon since the latter will be forced to testify before the authority, hopefully achieving the same result. Morrison is only saved (albeit unintentionally) from living to see his own reputation destroyed in the process by Lynch's idea of videogaming with an AC-130.
Curb-Stomp Battle: Hi, Pike.

Meet BA's piledriver.

Furthermore, once Lynch shoots

Murdock disguised as Morrison

, the seemingly-defeated Hannibal proceeds to get right up and layeth a smacketh down upon Lynch, who'd previously defeated Hannibal in hand-to-hand, though that was All According to Plan.

Curse Cut Short: "AMF" or "Alpha Mike Foxtrot", which is short for

"Adios, mother-"

Cutting the Knot: Face develops an elaborate plan that uses cargo containers as a giant-sized shell game. This works fine until Pike decides "screw this!" and knocks over all the containers!
Darker and Edgier: No more A-Team Firing, B.A.'s

trademark overhead throw

is now lethal, however, much to the dismay of Mr. T (the original portrayer of B.A. in the television show), who found the film too violent.
Dead Person Impersonation:

Murdock using a modified soundbox from a doll to mimic the General, who was pretty damn dead.

Delicious Distraction: One sure way to get B.A. off your case, especially if you're Murdock, is to give him curry tapenade. And don't forget the toasties!
Do a Barrel Roll: Murdock during both airborne Chase Scenes, in aircraft that really shouldn't be doing that.

It should be noted that a Huey really can do that, but there's no sane reason on God's Green Earth why you would ever want to. But this is Murdock we're talking about.
Also, a more literal example near the beginning, which ends with Face throwing up. More of a tire roll, really.

Drives Like Crazy: Murdock's extreme piloting is enough to cause Baracus, an experienced Airborne Ranger (as in a guy who jumps out of airplanes for a living) to subsequently become completely terrified of flying afterwards.
Dropped a Bridge on Him: Barely ten minutes into the movie,

the classic A-Team van

meets its demise in this fashion. Eight years later, B.A. hints that

he's restoring it

and hints that the pictures he has of his work so far is the closest Murdock will ever get to her. Considering how PISSED at the loss he was back then, this may not be an idle threat.
Enhance Button: Although it is not shown exactly how he enhanced it, Hannibal has a surveillance photo of Pike in much higher definition than Lynch. Also invoked later when Sosa could reconstruct Lynch's face from a jammed CCTV footage, albeit after a substantial wait. The photo was hardly pristine, either; Lynch's face is clear enough, but it's still grainy and the colors are way off.
Mr. Fanservice: The entire male cast. Especially Faceman.
---