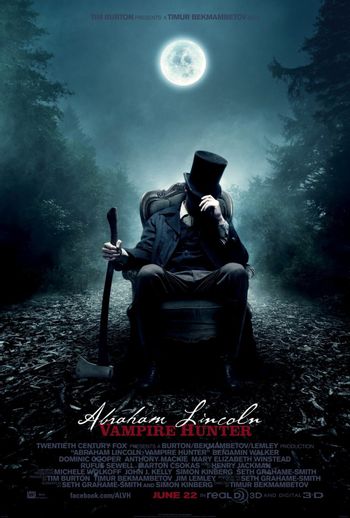 "History prefers legends to men. It prefers nobility to brutality, soaring speeches to quiet deeds. History remembers the battle, but forgets the blood. Whatever history remembers of me, if it remembers me at all, it shall only remember a fraction of the truth. For whatever else I am - a husband, a lawyer, a president - I shall always think of myself first and foremost as a hunter."
— Abraham Lincoln
Abraham Lincoln: Vampire Hunter is a film adaptation of the book of the same name. It was released in 2012 and directed by Timur Bekmambetov, produced by Tim Burton, and starring Benjamin Walker in the title role. Seth Grahame-Smith adapted the screenplay himself.
Young Abraham Lincoln sees his mother die when he is just a boy. He soon discovers that a vampire is responsible. Swearing vengeance, Lincoln embarks on a personal campaign to hunt and slay the Undead, with help of Henry Sturges.
---
Tropes:
---
"A guy only gets that drunk when he wants to kiss a girl or kill a man. So which is it?"