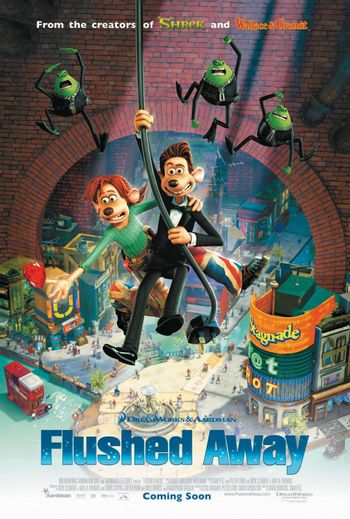 "You can get yourself out of here, and you will. Never forget: the blood of the courageous St. James clan flows through your veins."
(cue Roddy screaming at a wall full of slugs...and the slugs screaming back)
Flushed Away
(2006) is the third and final collaboration between DreamWorks Animation and Aardman Animations, using CGI to replicate Aardman's trademark Claymation style of animation.
An upper-class fancy rat named Roddy St. James (voiced by Hugh Jackman), after a mishap with a sewer rat called Sid (Shane Richie), ends up flushed down from his swank Kensington home into the underworld of vermin beneath London. Desperate to get home, he encounters Rita Malone (Kate Winslet), who is on the run from an unscrupulous crime lord called The Toad (Ian McKellen), who royally despises all rodents equally, and wants them put on ice... literally. The Toad dispatches his two hapless hench-rats, Spike and Whitey (Andy Serkis and Bill Nighy), to get the job done. When they fail, the Toad has no choice but to send to France for his cousin - that dreaded mercenary, Le Frog (Jean Reno). Can Roddy stop the Toad's evil plan and get back home?
---
Flushed Away provides examples of:
Evil Sounds Deep: Parodied when The Toad is talking to his legion of tadpoles and he regularly switches back and forth between a deep, booming voice when talking about his evil plans and a sweet little baby voice when talking directly to the tadpoles, only to accidentally talk in the baby voice when Spike and Whitey return before correcting himself.
Freak Out: Roddy repeatedly when he realizes he's in the sewer and trying to snap out of it by slapping himself:
Heroes Want Redheads: Contrary to the former trope, the fiery redhead Rita pretty unambiguously becomes Roddy's girlfriend at the end of the film.
Hoist by His Own Petard: Twice, once with Spike, another with The Toad.
Hourglass Plot: The movie begins with Sid, a thuggish sewer rat, invading the wimpy Roddy's home and makes a total pushover out of him. Following his experiences down the sewers, Roddy returns as a hardened, bitter rat with a foul temper and a commanding personality, whereas Sid's time living Roddy's old, luxurious lifestyle rubs the edge out of him and he's reduced to being an even bigger wimp than Roddy used to be, with the latter now pushing Sid around instead.
Running Gag: The slugs punctuate several moments throughout the movie, musically and otherwise.
Scavenged Punk: The sewer world is built all out of human materials. Just check out those eggbeater jet-skis or the Jammy Dodger, for example.
Shaking the Rump: Both Rita and Roddy taunt the bad guys by shaking their rears.
Shout-Out: Loaded with them.

One of the Toad's frozen victims is wearing the same clothes as Han Solo, and is in the same stance as Han when he was frozen in carbonite.
At the beginning of the film when Roddy browses for a movie to watch, the DVD titles are mostly comprised of DreamWorks SKG and Dreamworks Animation films... and then there's Ratman, Ratman Returns, Ratman Returns Again!, Puckered Lips Now, My Big Fat Greek Bottom, Piddler On the Roof, Death in Venice II directed by Rob Zombie, Once Upon a Time in a Vest, A Clockwork Potato, A Fistful of Dullards, Goon with the Wind, In the Heat of the Fridge and so on.
Also at the start of the film, a plush of Alex from Madagascar is by the window of Roddy's room.
As Roddy is first going through the pipes, he runs into a small fish that asks, "Have you seen my dad?"
One of the flies squeaks out "Help me!" before Toad eats it.
A cockroach is seen reading The Metamorphosis.
At one point, Spike says, "To the ratmobiles!", complete with spinning background, Spike and Whitey's heads zooming toward and away from the camera, and even the music sting from Batman (1966).
When Roddy falls down after Rita punches him for breaking the Ruby, a drawing of Shaun can be seen.
As stated in Actor Allusion, the X-Men Film Series, given Hugh Jackman, who voices Roddy, portrayed Wolverine. The Wolverine outfit cones from the comics, rather than the films, though. (Bonus points for him giving a snarly face when posing with it.)
To James Bond - Roddy has a throwaway bit involving a suction cup dart gun.

A movie titled "Die Again Tomorrow", go figure. That scene also has numerous DVD cases with punny titles ("12 Angry Folks", "A Few Good Puns") or straight-up DreamWorks Animation films.

A newspaper clipping referencing a mysterious veggie monster terrifying local gardeners (Wallace & Gromit: The Curse of the Were-Rabbit, also by Aardman).

There is a Gromit Pez-dispenser head in the interior of the Jammy Dodger.
Also, in Roddy's owners room in the beginning, you can see a stuffed Gromit (and also a stuffed Alex the lion as well).
And there's three stuffed bunnies from The Curse of the Were-Rabbit.

The candy bar that Roddy clings to in the sewer (although the DVD commentary maintains this one is a coincidence).
And then, of course, there's Sid.
The henchman Thimblenose Ted's face accessory may be referencing another henchman, Tsjuido from Speed Grapher.
Aside from the Wolverine outfit, he also pulls out Wallace's shirt and sweater vest, Gromit's diving bell, Fred Flintstone's outfit, a wizard's outfit, and settles on Elvis Presley's spangled outfit.
The Jammy Dodger sinks like the T-800 in Terminator 2: Judgment Day.
Zombie Gait: Something is... off about Thimblenose Ted. Besides having a thimble for a nose, that is.
---