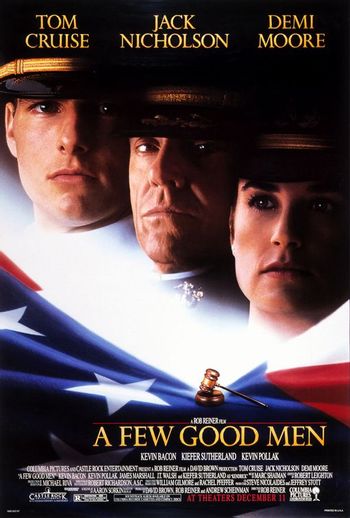 Jessep: You want answers?!
Kaffee: I want the truth!
Jessep: You can't handle the truth!note
Did you Describe A Few Good Men Here?
A Few Good Men is a 1989 play written by Aaron Sorkin, which was later made into a 1992 film directed by Rob Reiner and starring Tom Cruise, Jack Nicholson and Demi Moore. It is a military-themed courtroom drama in which young navy lawyer Daniel Kaffee (Cruise) defends Harold Dawson (Wolfgang Bodison) and Louden Downey (James Marshall), two Marines accused of murdering fellow Marine William Santiago (Michael DeLorenzo) at the Guantanamo Bay Naval Base in Cuba. The accused, however, say they were acting under orders from Col. Nathan Jessep (Nicholson).
The film also stars Kevin Bacon as Jack Ross, Kevin Pollak as Sam Weinberg, J. T. Walsh as Matthew Markinson and Kiefer Sutherland as Jonathan James Kendrick.
You Can't Handle The Parody is based on Jessep's rant at the end of the film.
In 2018 NBC announced they would produce a live broadcast of the play, following the success of their live musical productions, which was set to air some time in 2019. However, as of early 2022, it has yet to be produced.
---
You want examples?! You can't handle the tropes!
---