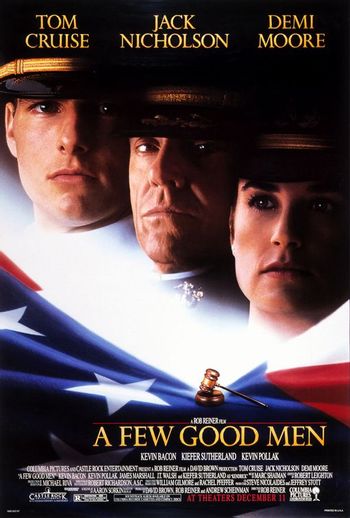 Jessup: You want answers?!
Kaffee: I want the truth!
Jessup: You can't handle the truth!note
Did you Describe A Few Good Men Here?
A 1989 play made into a 1992 movie directed by Rob Reiner, written by Aaron Sorkin and starring Tom Cruise, Jack Nicholson and Demi Moore. A Few Good Men is a military-themed courtroom drama in which young lawyer Daniel Kaffee (Cruise) defends two Marines accused of murder, who say they were acting under orders from Col. Nathan Jessup (Nicholson).
You Can't Handle the Parody is based on Jessup's rant at the end of the film.
NBC will broadcast a live performance of the play in 2019. No other details are currently known.
---
You want examples?! You can't handle the tropes!
---