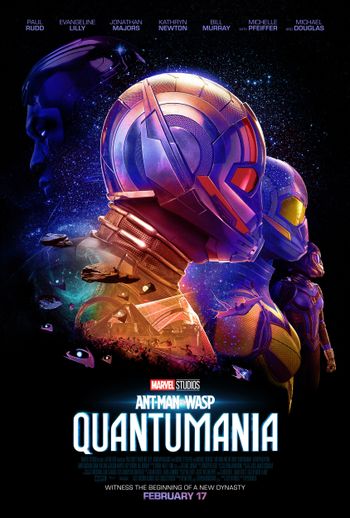 "I'm just a man who's lost a lot of time, like you. But we can help each other with that. Someone stole something from me. And you're the only one who can steal it back."
— Kang the Conqueror
Ant-Man and the Wasp: Quantumania is a 2023 Science Fiction superhero film directed by Peyton Reed and written by Jeff Loveness (Judas), based on the Marvel Comics characters of the same name. It is the 31st feature film and 41st overall installment of the Marvel Cinematic Universe, the first feature film of Phase 5, and a sequel to 2018's Ant-Man and the Wasp.
The film again follows official Avenger Scott Lang / Ant Man (Paul Rudd) who, alongside his partner Hope (Evangeline Lilly) is reaping the benefits of saving the universe at large. But, discontent to rest on their laurels for long, Scott's daughter, Cassie (Kathryn Newton) creates a device which functions as a communicator with / portal to the Quantum Realm.
But things quickly go awry when the device activates, dragging Scott, Hope, Cassie, Dr. Hank Pym (Michael Douglas), and Janet van Dyne (Michelle Pfeiffer) into the Quantum Realm. Now trapped in a mysterious, dangerous realm, the family must confront Janet's mysterious past, as well as face their greatest adversary yet: Kang the Conqueror (Jonathan Majors), who, if released from this prison, could wreak untold destruction upon the Multiverse.
Returning cast members include Gregg Turkington as Dale, Scott's former Baskin Robbins manager, and Randall Park as Agent Jimmy Woo. Corey Stoll returns as Darren Cross, who has transformed into M.O.D.O.K.. David Dastmalchian, who played Kurt in the first two films, plays a new character named Veb. The film also stars Bill Murray and William Jackson Harper.
The film was released on February 17th, 2023.
Previews: Trailer 1
, Ant-Sized Trailer 1
, Trailer 2
---
Ant-Man and the Wasp: Quantumania contains examples of:
---
---