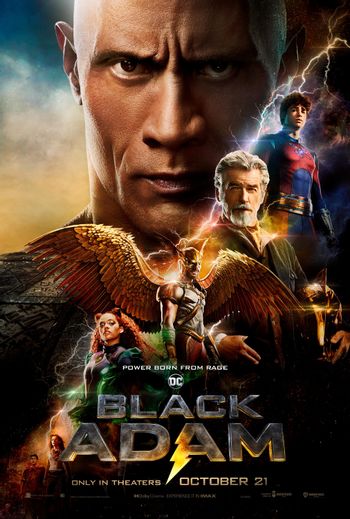 "Five thousand years ago, Kahndaq was a melting pot of cultures, wealth, power and magic. But most of us had nothing, except for the chains around our necks. Kahndaq needed a hero. Instead they got me. I did what needed to be done, and they imprisoned me for it. Now, five thousand years later, I am free. And I give you my word: no one will ever stop me again."
— Teth-Adam / Black Adam
Black Adam is a 2022 superhero film directed by Jaume Collet-Serra (The Commuter, Jungle Cruise), from a screenplay by Adam Sztykiel, Rory Haines, and Sohrab Noshirvani. It is the eleventh film and twelfth overall installment of the DC Extended Universe, based on the DC Comics character of the same name — along with the Justice Society of America franchise — as well as a spin-off of 2019's SHAZAM!.
Long before Billy Batson received the powers of Shazam, there was another before him — Teth-Adam (Dwayne Johnson), a man from Kahndaq who has been imprisoned for 5000 years for misuse of his new gifts. When he's inadvertently awoken by Adrianna Tomaz (Sarah Shahi), Adam is unleashed onto the world once more to bring forth his brutal sense of justice. The film will also mark the cinematic debut of the Justice Society of America.
Also appearing in the film are Noah Centineo as Atom Smasher, Aldis Hodge as Hawkman, Quintessa Swindell as Cyclone, and Pierce Brosnan as Kent Nelson / Doctor Fate, with Marwan Kenzari as Ishmael, Bodhi Sabongui as Amon Tomaz, Mo Amer as Karim Tomaz, with Uli Latukefu and Jalon Christian as Adam's son Hurut.
A 4-part comic book tie-in called Black Adam - The Justice Society Files was released starting in July to introduce the major characters.
Black Adam was released on October 21, 2022.
Previews: DC Fandome 2021 teaser
Official Trailer
, Official Trailer 2
---
Black Adam contains examples of:
---
"You can be the destroyer of this world, or you can be its savior. That's up to you."
---