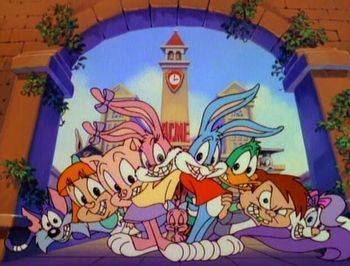 We're Tiny, we're Toony, we're all a little Looney!
It's Tiny Toon Adventures! Come and join the fun!
...and now our song is done.
A revival of sorts for the Looney Tunes style of comedy, using fun-sized, teenage Toons highly reminiscent of several classic characters. But rather than pure rip-offs, they were actually being taught in school by the originals on being funny and the finer parts of Cartoon Physics and being a Toon. This continues the proud tradition of Warner Bros. animation having a heavy dose of meta-humor, shtick and Lampshade Hanging of many cartoon tropes, but this also incorporated themes of adolescence, Aesops, and '90s sensibilities. It was executive produced by Steven Spielberg, who, along with Warner Bros. executive Terry Semel, thought the Looney Tunes style was due for a makeover on television after the success of Who Framed Roger Rabbit. Tom Ruegger was hired as Showrunner, as he had recently found success launching A Pup Named Scooby-Doo.
TTA started the Renaissance Age of Warner Bros. cartoons, resulting in similar shows that shared many of the same tropes and were produced in much the same way (writing, storyboards, layout, voice work and some animation done in the USA; with animation, paint, and camera work done by Asian, Canadian and New Zealand studios — TMS excluded; they preferred to do most of their own work themselves, albeit with an uncredited staff). It was also one of the first shows not made by Disney to contribute to the '90s animation boom, following The Simpsons by less than a year.
The show's pilot episode premiered as a prime-time special on CBS, who had declined to order a full series, on September 14, 1990, before officially beginning its run on weekday afternoon syndication beginning September 17. Many of the stations that ran it were Fox affiliates, leading to Fox officially adding it to the afternoon lineup for its last season (1992-93). After it left the Fox Kids lineup in September 1995, it's since been shown in reruns on Nickelodeon (1995-99, 2002-03), Kids' WB! (1997-2000), Cartoon Network (1999-2001), Nicktoons TV (2002-05), and The Hub (2013-15).
The characters included:
Buster and Babs Bunny ("no relation") — A (respectively) blue and pink pair of Bugs Bunnys. Served as the main characters and would alternate between Like Brother and Sister and love interests of each other. Would often host and close each episode. While Buster was the Straight Man more in tune with the 1950s-style Bugs character, Babs had more of a concrete personality, and was known for her excellent impersonations more akin with a gender flip of 1940s Bugs.
Plucky Duck — A green-feathered (he's a mallard), white tank-top-wearing Daffy who's about as scheming and (un)successful as his inspiration.
Hamton J. Pig — A neat freak who acts more like Plucky's sidekick. About the furthest distanced from his counterpart, Porky, out of all the characters (and he didn't even stutter!)
Fifi La Fume — A purple female skunk who's just as oversexed as her male counterpart, Pepe Le Pew. Unlike Pepe, however, she seems to have far more control over her odor, she's a tad more melodramatic, and she doesn't have a problem with her object of desire chasing her (unless it's Elmyra.)
Montana Max — Based on Yosemite Sam in name and temperament. The richest and meanest kid in Acme Acres, and owner of the legendary Acme company. Oddly, the Big Bad of Hellsing might be named after him.
Elmyra Duff — Usually referred to as simply "Elmyra", she bears a strong "wesembwance" to Elmer Fudd (she kind of resembles him in a wig and dress, and then there's the last name), but without the speech impediment. Instead of hunting for sport, she absolutely loves animals of all kinds. That is to say she loves to hug them and cuddle them and squeeze them to itty-bitty pieces and perform laboratory experiments on them, thus she is also based on the Abominable Snowman from the original Looney Tunes.
Dizzy Devil — pink/purple-haired mentee of the Tasmanian Devil. Is a party animal who, despite being disgusting, is actually considered attractive to women. As his name implies, his spinning makes him dizzy.
Furrball — "thpiritual thucthethor" to both Sylvester the Cat and Penelope Pussycat, and (with three exceptions) The Voiceless (like the latter). Inevitably, he pursues Tweety's female counterpart Sweetie Pie (who unlike many of the Sylvester/Tweety shorts is the instigator while Furrball is minding his own business). Most of the time, though, he's just the Butt-Monkey.
Calamity Coyote and Little Beeper — Wile E. Coyote and Road Runner analogues. These are the least disstanced with their behaviors being virtually identical, except that they fight in a cityscape instead of the desert, and that Calamity is trying to steal Beeper's pizza instead of eat him. They do occasionally interact with the others, where Calamity's mute nature is mostly highlighted.
Gogo Dodo — A thoroughly off-the-wall incarnation of cartoon surrealism, it is confirmed by the creators that Gogo is the son of the original Dodo from Porky in Wackyland. He resides in the supposedly same Wackyland, which is just outside Acme Acres.
Shirley The Loon — A Valley Girl, part-time psychic, and part-time Love Interest of Plucky. Supposedly created by putting Melissa Duck (from The Scarlet Pumpernickel) and Shirley MacLaine into a blender.
Little Sneezer — A mouse in a diaper who has a chronic sneezing problem inversely proportional to his size. Could be the Spiritual Successor to Chuck Jones's Sniffles the Mouse. His name on the other hand is a pun on "Little Cheeser", a non-Warner Bros. character, and his inaugural appearance references Tom and Jerry a fair bit.
Arnold — who is basically an Arnold Schwarzenegger impersonator in a white pitbull costume with shades. One of the only recurring new characters who is not an Expy of a Tune.
Mary Melody — a black girl who often had Furrball as a pet. Is often featured as a background character or extra. Her name is, of course, a pun on "Merrie Melodies".
Concord Condor — a rather dopey purple condor who is probably an expy of minor character Beaky Buzzard.
Fowlmouth — a little chicken with a tendency to swear excessively, most likely a Verbal Tic reminiscent of his mentor Foghorn Leghorn's.
Bookworm — a green, well, bookworm with big glasses based off of the companion to the Merrie Melodies character Sniffles. Naturally, he works in the library and is shown to be quite smart and good with computers.
Lightning Rodriguez — a Speedy Gonzales expy only seen in cameo roles. Officially, this is because Little Beeper's existence rendered a second fast character redundant, but Speedy's then-network TV ban for racial stereotyping concerns can't have helped.
The original Looney Tunes — most of whom are faculty members of Acme Looniversity, and who all make cameos sprinkled everywhere in the show. Often, they are personal tutors and greatly admired by their younger, respective spiritual successors.
Episodes were either broken into three 7-minute shorts, or made into half-hour full-episode adventures. Similarly, these would be split among stories dealing with misadventures in school, Looney Tunes-like shorts out in Acme Acres, or the occasional music video (the show's renditions of They Might Be Giants' "Istanbul (Not Constantinople)" and "Particle Man", for example, are favorites amongst fans of both the show and the band to this day).
A feature-length direct-to-video movie, Tiny Toon Adventures: How I Spent My Vacation, shows the misadventures of the kids on various summer road trips. It was eventually split up into four parts and worked into the show's syndicated run.
The show was a precursor to — and the inspiration for — Animaniacs; they were both produced by the same staff and shared many of the same writers. The main difference is that Tiny Toons generally had all the characters interacting with each other, while Animaniacs focused mostly on individual characters or groups for their Three Shorts. The two universes intersected in the ill-fated 1998-1999 retooling of Animaniacs' popular spinoff, Pinky, Elmyra & the Brain
The show spawned copious amounts of merchandise, most notably video games from Konami. It also had toys from McDonald's, plush dolls produced by Hasbro through Playskool, and two separate comic book series, one produced in North American magazines by DC Comics, and another series published in traditional comic book issues for most of Europe by, of all people, Marvel Comicsnote The complicated legal wranglings with both companies are actively keeping these comics from getting reprinted, in both territories.
The first season is now available on iTunes, broken up into volumes. Here
it is. The entire series is available on DVD.
The series is animated by seven different studios: Wang, Taiwan (30 episodes), Akom, South-Korea (23 episodes), TMS, Japan (19 episodes), Kennedy, Canada (17 episodes), StarToons, USA (3 episodes), Freelance, New-Zeeland (3 episodes) and Encore, USA (3 episodes).
The show has reaired in Russia since 2010, "It's a Wonderful Tiny Toons Christmas Special" reaired in the UK in December 2011, and the one hour special "Night Ghoulery" on Vortexx on October 27, 2012, with a repeat airing a month later on November 24. Tiny Toons went on to air on The Hub (now Discovery Family) from July 1, 2013 to June 8, 2015. In 2018, the entire series came to Hulu as part of the deal for the streaming service to revive Animaniacs, alongside How I Spent My Vacation and the Night Ghoulery and Spring Break specials. On January 4, 2023, it was removed from Hulu when its contract expired and was not renewed.
On October 28, 2020, it was announced that a reboot, called Tiny Toons Looniversity, is being produced for HBO Max and Cartoon Network. Spielberg will return as executive producer, with Erin Gibson (of the podcast Throwing Shade) will serve as co-executive producer and showrunner. On November 1, 2020, Cree Summer revealed Elmyra was not returning. Erin Gibson
later confirmed on Twitter that the reboot would consist of 30 minute long episodes as opposed to the original shows Three Shorts format and will be much more character focused, with the cast attending a performing arts school and having to deal with the college life experience. Some promotional art
for the new show confirmed that much of the core cast would be returning; which, despite what Cree has said, seemingly also include Elmyra. The series premiered in the fall of 2023.
Now has a Recap page. See also Noteworthy Tiny Toon Adventures Staff.
---
Tiny Toon Adventures provides examples of:
open/close all folders
#-D
E-I
J-P
R-Z
---
We're tiny, we're dopey!
We're all a little tropey!
It's Tiny Toon Adventures, here on T! V! Tropes!
...read it or you're a dope!