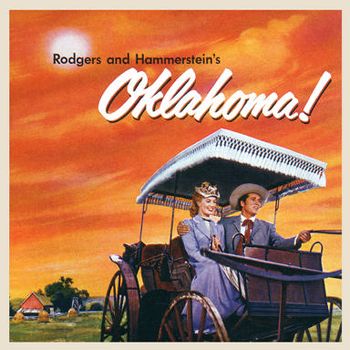 We know we belong to the land, and the land we belong to is grand!
And when we say, "Yeeow! Ayipioeeay!"
We're only sayin', "You're doin' fine, Oklahoma! Oklahoma, O.K.!"
Oklahoma! is a 1943 musical, possibly the most influential musical in the genre. It was based on the play Green Grow the Lilacs and adapted by Rodgers and Hammerstein. Set in 1906, it tells the story of a young cowboy named Curly, and a farm girl, Laurey. They're obviously in love, but neither of them will admit it. The sinister farmhand, Jud, asks Laurey to a dance. Laurey is afraid of him, but she accepts to spite Curly. The story takes a dark turn as Laurey realizes that Jud is dangerous, and that, if she were to turn him down, he could become violent.
The musical, which ran a then-unprecedented 2,212 performances (up to then, even hit musicals rarely ran more than a year), is a radical departure from the mostly fluffy musical comedies that had preceded it. It integrated the book (the spoken dialogue) with the music and used the songs to create Character Development and subtext. Its use of dance as adding to the plot and atmosphere was also a change from the showgirls of previous musicals. It was not the first to use such techniques (Show Boat, which also featured lyrics and libretto written by Hammerstein, predated it by nearly 20 years), but its impact is unmistakable.
Oklahoma! was successfully adapted to film in 1955, and has been revived numerous times on Broadway and in London.
If you're looking for information on the state where the musical was set, see Oklahoma (U.S.A.).
---
This play contains examples of:
---