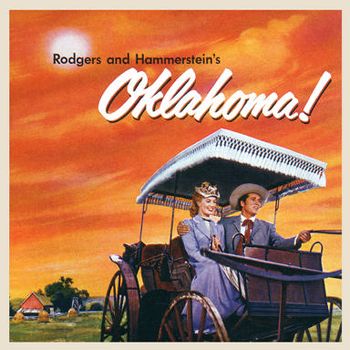 We know we belong to the land, and the land we belong to is grand!
And when we say, "Yeeow! Ayipioeeay!"
We're only sayin', "You're doin' fine, Oklahoma! Oklahoma, O.K.!"
Oklahoma! is a 1943 musical, possibly the most influential musical in the genre. It was based on the play Green Grow the Lilacs and adapted by Rodgers and Hammerstein. Set in 1906, it tells the story of a young cowboy named Curly, and a farm girl, Laurey. They're obviously in love, but neither of them will admit it. The sinister farmhand, Jud, asks Laurey to a dance. Laurey is afraid of him, but she accepts to spite Curly. The story takes a dark turn as Laurey realizes that Jud is dangerous, and that, if she were to turn him down, he could become violent.
The musical is a radical departure from the mostly fluffy musical comedies that had preceded it. It integrated the book (the spoken dialogue) with the music without attempting to justify it. Its use of dance as adding to the plot and atmosphere was also a change from the showgirls of previous musicals. It was not the first to use such techniques (Show Boat, which also featured lyrics and libretto written by Hammerstein, predated it by nearly 20 years), but its impact is unmistakable.
Oklahoma! was successfully adapted to film in 1955, and has been revived numerous times on Broadway and in London.
If you're looking for information on the state where the musical was set, see Oklahoma (U.S.A.).
---
This play contains examples of:
Hidden Depths: Ali Hakim may be a womanizing peddler, but he is the one who tells Aunt Eller about "the little wonder", saving Curly's life.
Hotter and Sexier: The 2019 revival, sometime nicknamed "Sexy Oklahoma" or the coarser "Fucklahoma".
Parental Marriage Veto: Andrew Carnes' won't give his consent to Will marrying his daughter Ado Annie unless Will can prove that he can earn, and hang on to, $50 ($1,400 in today's money).
Really Gets Around: Ado Annie. She is a girl who can't say no, after all.
Serial Killer:

In all likelihood, Jud himself. Some productions add more hints of this to keep him from being too sympathetic.
Sharpshooter Fallacy: In order to try to impress/threaten Jud, Curly shoots a knothole in a beam on the ceiling and claims it was his target. When Aunt Eller comes in to inspect the shot, he tries to make the same claim and she points out that there are a lot of knotholes up on the ceiling.
Shipper on Deck: Pretty much the entire town for Laurey/Curly, as the song "People Will Say We're in Love" hints at. Most definitely Aunt Eller.
Shotgun Wedding: Ali Hakim seems to attract these— Carnes tries to force him to marry Ado Annie.

He escapes that one, only to be forced to marry the intolerable Gertie Cummings.
Unable to Support a Wife: This is Will's problem, which is why he needs to prove to Annie's father Andrew Carnes that he has $50 ($1,400 in today's money) to show he can earn, and hold on to, enough money to support Ado Annie.
Villain Song: "Lonely Room," and it's a damn good one. This is the moment that it becomes clear that, Curly being kind of a jerk to him aside, Jud is actually quite dangerous and Laurey may be in trouble. Doubles as an Obsession Song.
What the Hell, Hero?: Curly tries to Mind Screw Jud into committing suicide. Why? So that Jud won't be around to ask Laurey out. Even in the productions that add the rapey undertones, this scene happens before Jud does anything worse than express an interest in the same girl as Curly.
---