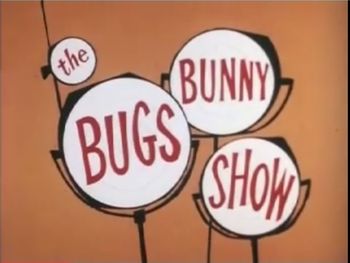 This anthology show starring the Looney Tunes ran on ABC and CBS, with a dash of NBC, on Saturday mornings from 1960 to 2000, making it the longest-running American animated program of any capacity to date. If the current rights-holders for these cartoons allowed it (they don't), then they likely would still have been on network TV well into the 2000s.
It began during the era of local kids' shows, and this show was an all-animated variant on the format. Bugs Bunny and Daffy Duck introduced Warner Bros. cartoons, all in color and originally released after August 1948. note (The TV rights to the black-and-white cartoons [except for the Harman-Ising Merrie Melodies] had been sold off to Guild Films in 1955 and the copyrights to the rest of the pre-August 1948 cartoons were sold to Associated Artists Productions in 1956; the latter eventually landed in the hands of United Artists. WB has since reacquired those (via the 1996 merger of Time Warner and Turner Broadcasting, which had acquired the shorts with the pre-1986 MGM library when Ted acquired then sold MGM/UA for 74 days in 1986), but they have never aired on any incarnation of the show, though they did air on the Kids' WB! program The Bugs and Daffy Show starting in 1997.) Various animated antics happened in between. The basic format didn't change much.
The show lasted an entire hour (though some incarnations were 30 minutes, and some incarnations ran as long as 90 minutes), and Looney Tunes shorts were slightly shorter than the standard Saturday Morning Cartoon shorts, so you could see a lot of cartoons in that hour. Many of these cartoons were either originally aimed above the average audience of the show or the Larriva Eleven, but there was something for everyone.
Incarnations of this show:
The Bugs Bunny Show (ABC). First-run episodes in primetime 1960-1962, with repeats airing on Saturday mornings from then until 1968. Rearranged episodes aired on CBS from 1971 to 1973, and then back on ABC from 1973 to 1975.
The Porky Pig Show (ABC). 1964-1966. Featured first-run cartoons (the first always starring Porky) and replays of several seen on The Bugs Bunny Show. In syndication, it would also be known as Porky Pig and Friends.
The Road Runner Show (CBS). Run from 1966 to 1968. Repeats aired on ABC from 1971 to 1972.
The Bugs Bunny/Road Runner Hour (CBS). Combination of the above shows. First-run episodes run from 1968 to 1969, with reruns airing until 1971. A new version aired from 1975 to 1978 and included several shorts not broadcast in the previous incarnation.
Sylvester and Tweety (CBS). Aired from 1976 to 1977.
The Bugs Bunny/Road Runner Show (CBS). The name change reflected the show's increase in length from 60 to 90 minutes. Aired from 1978 to 1985, with a mix of older shorts and newer shorts originally made for primetime specials.

A short-lived, 30-minute primetime version aired with this title during the 1975-76 midseason.

Daffy Duck (NBC). Aired from 1978 to 1981.
The Daffy/Speedy Show (NBC). Aired from 1981 to 1982.
The Sylvester & Tweety/Daffy & Speedy Show (CBS). A new incarnation of the above. Aired from 1981 to 1982.
The Bugs Bunny/Looney Tunes Comedy Hour (ABC). Aired from 1985 to 1986. Included shorts of every notable Looney Tunes character except Tweety and Speedy Gonzales.
The Bugs Bunny & Tweety Show (ABC). Aired from 1986 to 2000, underwent various changes in format. Show was cancelled when Cartoon Network (and its sister channel, Boomerang) gained the sole rights for broadcasting the Looney Tunes shorts. Included cartoons seen on The Porky Pig Show and some not seen on any previous incarnations.
---
This series (and bridges) provides examples of:
---