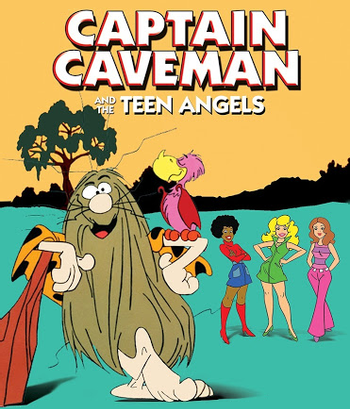 "Captaiiiinnnn... CAAAAAAAVE-MAAAAAANNNNN!!!"
Set free by the Teen Angels from his prehistoric block of glacier ice, comes the world's first superhero... Captain Caveman! Now the constant companion to the Teen Angels, Brenda, Dee-Dee and Taffy, in their hilarious and sometimes scary mystery missions. Get ready for...
Captain Caveman and the Teen Angels was introduced as part of Scooby's All-Star Laff-A-Lympics on ABC in 1977. When not competing on Scooby-Doo's team, Cavey and his trio of beauties solved mysteries in yet another variation of the Scooby format. Cavey, a caveman Super Hero frozen in a block of ice until thawed in the 20th century by the Teen Angels, kept many gadgets and live dinosaurs inside his fur. He also possessed superhuman strength, and (thanks to his club) could even fly; those powers were prone to giving out at unwelcome occasions. The Teen Angels are (left to right): smarty pants leader Dee-Dee Skyes, flirtatious Taffy Dare, and nervous wreck Brenda Chance.
Voice talent included Mel Blanc, Laurel Page, Marilyn Schreffler and Vernée Watson-Johnson.
In later series, Captain Caveman was shown living alongside The Flintstones. The early 1980s The Flintstone Comedy Show starred Cavey in his own segment, as Bedrock's resident superhero, often accompanied on adventures by newspaper reporters Wilma Flintstone and Betty Rubble. On The Flintstone Kids, Captain Caveman and his son were the stars of a Show Within a Show.
While initially aired as part of Laff-a-Lympics, the series would spin off into its own thing for Season 3, mixing in reruns from the first two seasons, while some airings (specifically, the ones on Boomerang and Teletoon Retro) would mix in the live-action segment Mystery Island from The Skatebirds into rotation.
---
Captain Caveman and the Teen Angels provides examples of:
Beach Episode: "The Old Caveman and the Sea" takes place entirely at a beach and in the ocean.
Hairy Hammerspace: Captain Caveman's fur contains multitudes of random objects alongside multitudes of actually living dinosaurs.
Would You Do It For A Scooby Snack?: Taffy can sweet talk Captain Caveman into just about any daffy Taffy plan.
Zany Scheme: If Taffy is given a close up with sparkles around her, it usually means she's coming up with one of these.

"Not another daffy Taffy plan!"
---
The Captain Caveman segments on The Flintstone Comedy Show provide examples of:
Clark Kenting: Captain Caveman himself did this to disguise himself as Chester, wearing glasses and a bowtie and raising his voice an octave.
Damsel in Distress: Wilma and Betty were often reduced to this, usually by trying to stop the villain themselves and getting in over their heads.
---
The Captain Caveman segments on The Flintstone Kids provide examples of:
An Aesop: Seen in the wraparound segments featuring the Flintstone Kids.
---