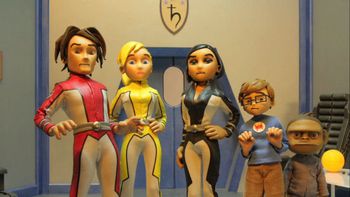 Palmer: Jodi! Check your watch!
Jodi: Huh?
Palmer: What time is it?
Jodi: Um, it's about three-forty—
Palmer: TIME TO PUNCH THE FUCK OUT OF IT!
What would happen if the cast of Voltron started drinking, went on a binge, and pretty much threw up acid all over the place? Well, that depends on who caught it all on tape — and in the case of Titan Maximum, the fine folks who gave us Robot Chicken ended up doing just that.
In the future, mankind has colonized the entire solar system, including Saturn. Saturn's moon, Titan, needed protection during its war against Mars — and to that end, it created Titan Maximum, a Combining Mecha which serves as its last, best line of defense for Titan's capital. While Titan Maximum's pilots (egocentric and narcissistic Palmer; Parody Sue Jodi; stuck up Sasha; plan man Gibbs; and The Big Guy, Spuds) never saw eye-to-eye with each other, they always managed to get the job done. After budget cuts, the team — who all but hated each other by the end — went their separate ways.
Years later, most of Titan Force Five find themselves failing at civilian life: Palmer hangs out at bars trying to pick up chicks; Jodi fights just a little too hard while juggling charity work; Sasha spends most of her time at dance clubs trying to become a popstar (between bouts of binge drinking and lots of meaningless sex); and Spuds fell off a balcony during a party and died.
What happened to Gibbs? During a televised interview, Gibbs reveals what he plans to do: "conquer the Solar System, crush all who oppose [him], and name [himself] 'Super King Big Nuts'."
The three remaining members of Titan Force Five reassemble to fight Gibbs and his new evil compatriots — and since they need to replace Spuds and Gibbs, they round out the team with Willie, Palmer's rather overeager yet technically-brilliant younger brother (who graduated as an engineer — from DeVry), and Leon, the surly monkey who worked as janitor of the team's abandoned base. Once the new Titan Force Five manages to get Titan Maximum working again, they become the solar system's best hope of stopping Gibbs — but their dysfunctional teamwork and clashing personalities also make them a danger to pretty much everyone else, including their commanding officer, Admiral Bitchface.
Despite powerhouse ratings when it first aired (it often beat out new episodes of The Venture Bros., Adult Swim's most popular original series), Seth Green halted all production on the show to focus on his self-admitted Cash Cow Franchise, Robot Chicken — even though he wasn't a creator or producer, and Matthew Senreich said he had enough material for "maybe ten seasons" of the show in an interview.
---
Titan Maximum provides examples of the following tropes:
open/close all folders
A-F
G-L
M-R
S-W
---
Look what you did, Jodi…

Oh shut up Sasha.