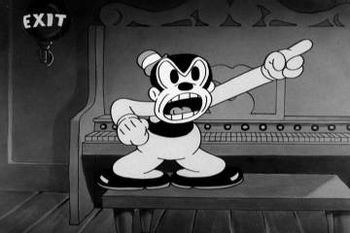 Meet the Oswald the Lucky Rabbit of Looney Tunes.
Bosko, the Talk-Ink Kid is the original, all-but-forgotten debut cartoon character of Warner Bros. animation. Created by ex-Disney employee Hugh Harman of the Harman and Ising duo, Bosko is, as his name tells, a "talk-ink kid" — or more specifically, an inkblot Blackface-Style Caricature character. His first appearance was in the short pilot "Bosko, the Talk-Ink Kid"
in 1929, and was noteworthy for being one of the earliest cartoons to feature properly synchronized sound and dialogue in a cartoon. However, his official theatrical debut (the pilot was never shown to the public) came the following year in the first original Looney Tunes short, "Sinkin' in the Bathtub".
While Bosko was initially what is now considered to be an offensive character, Rudy and Hugh shortly decided to ditch the allegedly black-stereotypical aspects of him in favor of him being more like an everyman character, from having him own his own businesses, to getting to beat up the occasional white bad guy — pretty progressive for its time, ain't it? Hugh and Rudy however insisted that Bosko was never meant to be an offensive depiction of a black person, claiming the southern voice in his early appearances wasn't meant to be African-American dialect, and that they thought of him as more of a young Jewish boy or Al Jolson type character. Whether they were sincere about that or were trying to save face remains a mystery, especially since Bosko's copyright notice describes him as a "negro boy", as well as the fact that he eventually got redesigned into a full-on black kid in his MGM shorts.
The early Bosko cartoons were very, very different from the Looney Tunes cast that we've all grown up with. Bosko doesn't have much of anything in the way of personality, with the shorts almost always eschewing plot and characterization in favor of slapstick oriented comedy or having the footage timed to a classic song — the former of which were obvious holdovers from Harman and Ising's previous work at Disney, but Harman and Ising's cartoons were noticeably more raunchy and wild (at first, anyways). However, the same could be said of every other cartoon of the time period.
Bosko was a success when he debuted and gave Walt Disney's Mickey Mouse some good competition, but it all crumbled by 1933—Hugh Harman, who was known for holding a rivalry towards Walt, began relentlessly pushing for Leon Schlesinger to increase the budgets of the Boskos, in order to gain the upper hand over Disney; Leon refused to budge, resulting in Hugh and Rudy deciding to pack up and leave for MGM, taking many of their staff, and the rights to Bosko, with them — learning from Walt's debacle with Oswald, the duo wisely made sure they owned Bosko in case somebody tried to screw them over. Leon quickly assembled a new team in an attempt to compensate for this loss, and having animator Earl Duvall creating a replacement for Bosko—Buddy, who was basically a whiteface version of him. Those shorts are noteworthy, if only for being some of the dullest, blandest, and crudest cartoons to ever come out of that time period — in particular, the first short Buddy's Day Out was reportedly so bad that it nearly killed this new studio before it even got off the ground; it was Friz Freleng's timely return to the studio and reedit of the film that allowed the cartoon to receive approval, and thus allowing the studio to avoid going belly up.
At MGM, Bosko became a recurring star of Harman and Ising's Happy Harmonies series of shorts. He initially retained his inkblot design in his first two appearances; "Bosko's Parlor Pranks" and "Hey Hey Fever", but this design and his original characterization (or lack thereof) were scrapped in favor of an African-American kid with a curious personality, sharing only the original name of Bosko. While the new Boskos were lavishly animated and featured impressive craftsmanship, they often suffered from weak gags and overbearing, mawkish sentimentality, not to mention very sluggish pacing, and as such, the character failed to regain any of his original popularity, and vanished altogether after a handful of shorts.
Due to the characters roots and the nature of his cartoons coming off as rather quaint in contrast to the more iconic Looney Tunes, Bosko has remained in limbo for decades; his cartoons very rarely air on TV, save for the earliest days of television (when the first package of Looney Tunes shorts were initially released to television) and on Nickelodeon in the late 80s and 90s (they weren't very popular there, either. When Nick dropped the Bosko cartoons from their Looney Tunes catalog, they lampshaded it in a commercial, saying "More Bugs, more Daffy, and no Bosko. Sorry Bosko!"); fortunately, 25 of his 37 Warners shorts have made their way into the Public Domain, and many of his cartoons have appeared in the Looney Tunes Golden Collection series (meanwhile in an ironic twist, his MGM shorts are now also owned by WB via Turner Entertainment). The character also made a brief comeback in the Tiny Toon Adventures episode Fields Of Honey (albeit with a mild redesign to look more like the dog-esque characters of the then upcoming Animaniacs). Buddy, his ne'er-do-well successor, would get a few of his own shorts released on DVD as well, and he would also make an appearance in an episode of Animaniacs, The Warners 65th Anniversary Special, in a scheme to get revenge on the trio, who in their universe were responsible for destroying Buddy's (in real life, non-existent) stardom. (Specifically, they were brought in to spice up his boring cartoons by whacking him in the head with a mallet over and over.)
Not to be confused with the Nippon Animation series Bosco Adventure, based on the Italian children's book series Storie del Bosco by Tony Wolf.
---
Filmography
1929
1930: All cartoons co-directed by Harman And Ising.
Sinkin' in the Bathtub: The "official" first Looney Tunes short.
Congo Jazz
Hold Anything
The Booze Hangs High
Box Car Blues
1931: All shorts up to "Bosko the Doughboy" co-directed by Harman And Ising.
Big Man from the North
Ain't Nature Grand!
Ups 'N Downs
Yodeling Yokels
Bosko's Holiday
Tree's Knees, The
Bosko Shipwrecked
Bosko the Doughboy: Hugh Harman becomes the sole director of the Warners Boskos from here on out.
Bosko's Soda Fountain
Bosko's Fox Hunt
1932
Bosko at the Zoo
Battling Bosko
Big-Hearted Bosko
Bosko's Party
Bosko and Bruno
Bosko's Dog Race
Bosko at the Beach
Bosko's Store
Bosko the Lumberjack
Ride Him, Bosko!: Earliest Warner Bros. cartoon still under copyright.
Bosko the Drawback
Bosko's Dizzy Date: Also known as "Bosko and Honey".
Bosko's Woodland Daze
1933
Bosko in Dutch
Bosko in Person
Bosko the Speed King
Bosko's Knight-Mare
Bosko the Sheep-Herder
Beau Bosko
Bosko the Musketeer
Bosko's Picture Show: Includes one of the earliest animated depictions of Adolf Hitler (who's caricatured chasing Jimmy Durante with an axe).
1934
Bosko's Parlor Pranks: First appearance of Bosko in an MGM cartoon, as part of the Happy Harmonies series. Consists almost entirely of colorized Stock Footage from previous Bosko shorts.
1935
Hey-Hey Fever: Last cartoon to feature the original Bosko design.
Run, Sheep, Run: First cartoon to feature the In Name Only Bosko.
1936
1937
Circus Daze
Bosko's Easter Eggs
Little Ol' Bosko and the Pirates
Little Ol' Bosko and the Cannibals
1938
Little Ol' Bosko in Bagdad: Last theatrical appearance of Bosko.
1990
1996
---
Noteworthy shorts the character has appeared in:
Bosko, the Talk-Ink Kid (1929)
Bosko's Picture Show (not only for being the final cartoon done by Harman and Ising, but also because of the common urban legend that Bosko calls the villain "The dirty fuck," which most animation historians and viewers have contended is "The dirty fox!" Either way, when Nickelodeon aired the cartoon, they redubbed it with "The dirty cur!")
Tropes associated with this series:
---