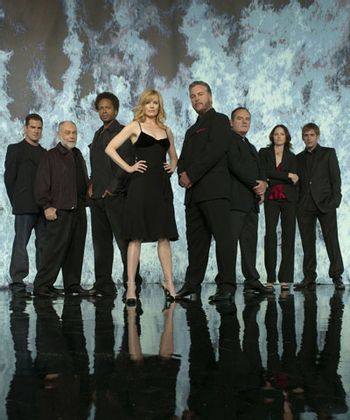 "Concentrate on what cannot lie — the evidence."
— Gil Grissom
CSI (full title CSI: Crime Scene Investigation and upon revival, CSI: Vegas)note was unofficially referred to as CSI: Las Vegas when differentiating the shows in the franchise, mostly abroad where CSI: Miami made the franchise popular, before officially adopting CSI: Vegas upon its 2021 revival is a highly successful TV show (2000-2015) about a group of graveyard-shift crime scene investigators in Las Vegas led originally by enigmatic scientist Gil Grissom, then, following his departure, by ex-stripper and single mother Catherine Willows, and finally, by quirky scientist DB Russell.
Initially touted as a show where the evidence was the main character and the actual characters were little more than flat stereotypes with "quirks" added almost as an afterthought, the series progressed over its thirteen seasons to make the characters a little more rounded and include more of their personal lives and histories in the story lines. It also moved on from a fairly straightforward forensics approach to more high-tech approaches that aren't necessarily possible in real life, requiring some degree of suspension of disbelief from the viewer. CSI runs into the Road of Trials (Part of Hero's Journey) many times throughout the series. CSI as a forensic/mystery show continued for many years, holding on very strongly and getting more interesting with time.
The series influenced a great many subsequent programs, particularly from the early 2000s to the early 2010s, where police procedurals involving large casts of characters, often focused around a specific type of crime/evidence/investigation methods, were for a while a large mainstay of TV programming. Most directly, it inspired its producer, Jerry Bruckheimer, to try and replicate this success with Without a Trace and Cold Case (both in the same verse). It also followed in Law & Order's "franchise" footsteps, with CSI: Miami (Yeeeeeeeaaaahh!), CSI: NY and CSI: Cyber. There are 797 total episodes of CSI, CSI: Miami, CSI: NY, and CSI: Cyber, not including books, comic books, and video games related to the franchise. Please note, however, that it is not the oldest of the current crop of forensic shows, a title held by British show Silent Witness.
Gil Grissom's frequent one-liners right before the opening credits or an ad break are a well known example of a Quip to Black, although Horatio Caine's versions are perhaps the best known - mostly due to the heaping layer of cheese added to them. Pretty much established the Necro Cam, which it uses as a device to re-enact for the viewers every single gruesome detail that can be extracted from a crime scene, and every theory it spawns.
The uncanny effectiveness of the show's Applied Phlebotinum has caused some to suspect that it's not actually set in the present day, but, rather, 20 Minutes into the Future (on-screen dates, though, put it in the Present Day).
The show (and its spinoffs) have given rise to what legal professionals call "The CSI Effect": the necessity of compressing what would normally be months worth of delicate and time-consuming lab work into a 40-minute television episode causes similarly unrealistic expectations in potential real-world jurors. As a result, the uninformed juror will assume that what they see on the show is happening as it actually occurs, as opposed to being fabricated and accelerated for television. It's also sometimes created difficulties in crime-fighting, since the show shining the limelight on forensic techniques (aforementioned Artistic License notwithstanding) has prompted higher-end criminals to take steps to minimize what forensic evidence they leave behind (e.g. wearing gloves to avoid fingerprints).
The show aired a total of 15 seasons before being cancelled in May 2015. A two-hour movie to conclude the show's run aired on September 27, 2015, which brought back original stars William Petersen and Marg Helgenberger.
CBS has announced a 20th anniversary revival run of the series for 2021, which is set to feature various returning cast members as well as a few new ones.
---
This show provides examples of:
open/close all folders
A-D
E-L
M-R
S-Z
---
The CSI video games provide examples of (in addition to many listed above)
---