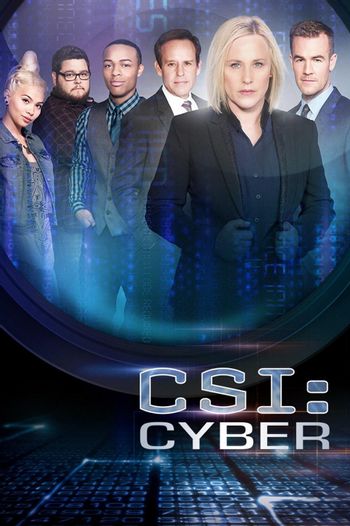 "...I joined a team of criminal experts who wage a war against a new breed of criminal hiding on the deep web. Infiltrating our daily lives in ways we never imagined. Faceless, nameless, lurking inside our devices. Just a keystroke away. [whispering]
It can happen to you."
note
Premiering in 2015, CSI: Cyber is the fourth and final series in the original run of CSI Verse prior to the revival of the original show as CSI: Vegas.
The show stars Patricia Arquette as Dr. Avery Ryan, a character introduced in a Poorly Disguised Pilot episode on CSI titled "Kitty". She heads an elite group of FBI Agents and Hollywood Hackers in the FBI Cybercrime Division. They investigate nasty "cybercrimes" committed through the dark net and deep web, along with other dangerous misuses of online technology. Her teammates include Elijah Mundo (James Van Der Beek), a badass ex-Marine and divorced father; Simon Sifter (Peter MacNicol), Avery's boss and an experienced agent who helps the heroes deal with the FBI bureaucracy; Daniel Krumitz (Charley Koontz), a wisecracking, laid-back Playful Hacker; Brody Nelson (Shad Moss (best known under his stage name of "Bow Wow")), a former cracker who was caught by Krumitz and is the group's latest recruit; and Raven Ramirez (Hayley Kiyoko), another ex-cracker who's been on the team a while.
In the second season, Peter MacNicol left (explained In-Universe by Sifter being promoted) and Ted Danson's D.B. Russell from CSI: Crime Scene Investigation joined the main cast after the latter series' finale.
The show has a different emphasis than the other CSI series; instead of being cops or scientists who solve crimes in one city, the protagonists work for the FBI and travel all over the country.
CBS canceled the series on May 12, 2016, effectively grounding the CSI franchise on ice for five years, until the original CSI was revived as CSI: Vegas in fall 2021.
Tropes:
---