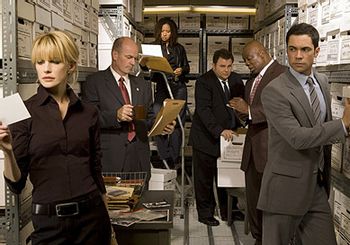 Vera:
An '83 job can wait, Lilly. Come on.
Lilly:
No, it can't. It's waited long enough.
— "Gleen"
A cold case is a criminal investigation that has been rendered inactive and unsolved due to a lack of evidence, witnesses, or suspects to form a solid lead. When new evidence does show up, it's a long, difficult, and painful process to peel back the layers of dust covering it and try to put the new lead into context with what's already known about the case, and where that may lead, no one knows.
This is the basis of Cold Case (2003-2010), a Jerry Bruckheimer-created crime drama that forms one corner of his crime drama trifecta (along with CSI and Without a Trace, both of which had crossovers with the show). Far less science or legalese-absorbed than the other Bruckheimer-verse installments, Cold Case instead focuses on the human aspect of a crime, and how the victims, witnesses, and criminals are affected by the crime both at the time of its commission and in the years afterwards.
One of the most interesting aspects of the show was that each episode played out as a Period Piece, as the bulk of the story is told through flashbacks strongly reflecting the time when the crime was committed and the culture surrounding those involved. For instance, the Flashback Effects are In the Style of... a prominent cinematic and audio style of each period- the story of a young man from the wrong side of the tracks in the 70's resembles a grindhouse flick, the story of a conflicted teen in the 80's recalls the look and sound of Degrassi Junior High. The music for each episode was of course a Nothing but Hits medley of that period's music (though credit is due for scrounging up some obscure hits from time to time). Timeshifted Actors are employed to strong effect, juxtaposed with their future/present-day selves, showing how the effects of a crime can ripple through decades and generations. Also expect a bit of a history lesson with each episode, as a great many of the cases have something to do with something historically significant at the time (for instance, one of the oldest cases deals with women's suffrage). It's also brutal about "The Good Old Days", blatantly showing them to be every bit as bad (or worse) than present day. Expect at least two or three episodes a season to deal with themes of racism or homophobia.
The emotionally-driven nature of the show means that it will most likely not interest those interested in the "hard science" of crime solving. However, it is, in general, well done and more suited to those looking for something more emotionally-involving.
Based on the A&E reality show Cold Case Files and many suspect also the Canadian series, Cold Squad. In 2016 a remake titled ''Cold Case: Shinjitsu no Tobira" aired in Japan, with each episode based directly on episodes from the original American show with three seasons already airing there. Specifically "Blank Generation", "Fly Away", "Discretion", "Mind Hunters", "The Plan", "The Sleepover", "The Letter", "Resolutions", "Boy In The Box", and "The Woods".
---
This show provides examples of:
open/close all folders
# - D
Carrie Swett, who was stoned for being promiscuous in a scene right out of Old Testament times.
Steve Jablonski, who was Buried Alive.
Carlos Espinosa, who had spray paint pored down his throat.
Fans generally agree, though, that John Smith's victims, who were starved to death, were the most bloodcurdling of all.
"Thrill Kill".

The guy killed his son and his friends because of a harmless prank they pulled on him.

None of these hold a candle to the guy from "Disco Inferno", who murdered 23 people over an insult to his dancing skills and displays not one iota of remorse - and said insult was only given after he had just attacked the victim in the hopes that

he could break the guy's legs or damage them enough so he couldn't win the dance contest.

The victim was understandably ticked off at having been assaulted.
"Fireflies". A white girl defends her black friend from a racist boy. Said boy is humiliated and breaks into her house and attempts to kill her.

It wasn't just that. The boy was being beaten-up daily by his father because of a situation that started when the white girl befriended the black girl. He shot at them to scare both into breaking their friendship, but thought he had accidentally murdered one... and then went to kill the other so she couldn't tell anyone.

Luckily, the girl survived.

The serial killer from "The Last Drive-in"/"Bullet" targeted the people he blamed for his father's suicide, and later for his own business failing. Most of them were nothing more than innocent bearers of bad news.
Double Standard: Abuse, Female on Male: Played with the first suspect in "The Red and the Blue", a woman who shot her husband after she caught him cheating. She was sent to jail and was presented as Ax-Crazy. Throughout her interrogation, not only did she hint that she was cheating on him as well (in addition to admitting she was his former mistress) but she sent the cops after him. However, at the end of the episode the two reconciled and embraced each other.
Downer Ending: While most episodes are bittersweet at best, a few episodes end this way due to the doer getting off or even if the victim had lived, they still would been implied to have had lead an unhappy life:

"Mind Hunters" ends with George Marks walking out of police headquarters a free man fue to lack of evidence and the follow up episode, "The Woods" reveals that

he was able to successfully kill the lone woman who had escaped him in 1997.

"The Runaway Bunny" has the Evil Stepmother of the eponymous Bunny not be charged in the long-unsolved murder of her father for similar reasons.
"Death Penalty:Final Appeal" has the wrong man executed for raping and killing a teenage girl in 1994 due to an overly ambitious prosecutor who fudged the case. The man's angry ghost appears at his funeral alongside Lilly and Jeffries.
The victim from "Honor", a former prisoner of war who served in Vietnam, faced a post-service life with a wife and son who abandoned him for a Phony Veteran who pretended to be him and his old friends and fellow soldiers turning on him due to blaming him for his best friend who died in the POW camp's death.
The victim from "Spiders" had came from an abusive home, was unsuccessfully being made an emancipated minor and was ultimately held captive by a group of Neo-Nazis then murdered by one after she had escaped.
The victim's daughter in "Gleen" was left an emotional wreck due to her mother's brutal murder as a child and the heartbreak to learn that

her father

had killed her.
"Committed:" The Big Bad had been dead for decades, with nobody the wiser that he was a murderer for the entirety of his life, and so his tragic Guilt Ridden Accomplices whom he'd blackmailed into assisting him get the blame for the whole thing.

Drill Sergeant Nasty:

The murderer

in "Shore Leave", who does his best to drive out a recruit he believes does not belong in the Marines.

He eventually kills him because Tully refuses to go along with a lie that would falsely discredit his fellow Marine

.
Drop the Hammer: "Spiders". The Victim of the Week has he head caved in the hammer the killer had earlier used to break the lock on the basement window so she could escape.
The Dutiful Daughter: Lilly,who always tries to be there for her troubled mother despite their issues.
Dumb Muscle: Averted with French, in Runaway Bunny who serves as the PI's muscle, but is fairly resourceful and street-smart.
E - K
Eagleland: "Devil Music" is a deconstruction of Type 1, in a similar vein to Pleasantville. It's set in a seemingly-idyllic Leave It to Beaver-style community, but over the course of the episode, the victim, an Elvis Presley Expy, starts discovering and bringing to light dirty little secrets about the town, such as its incredibly-restrictive racism and sexism. He's ultimately killed by his cousin, who had bought into the facade completely and blamed the victim for taking his Utopian life away from him (but, of course, it was never utopian to begin with and the cousin was Completely Missing the Point).
Easily Forgiven: Ken Bream from Revenge spent his entire life being blamed by his wife for their son's death as well as blaming himself. Yet when the police discover that she was solely at fault he never once called her out.
Fun-Hating Confiscating Adult: In "The Brush Man", one of the suspects is a reclusive Vietnam veteran who keeps any toy who lands on his property. When the police search his home, they find a huge stash of bikes and balls.
Future Loser

A special yet recurrent variant is to show people that were beautiful or hot in the past (and exploiting it for their benefit) to be "fugly" or having aged way worse than others in the present, even if they weren't really bad people back then. Examples include the rival male dancer in "Disco Inferno", the football player in "Stand Up and Holler", the Gold Digger in "The Runaway Bunny", the gorgeous blonde in "Justice", and the former prom king in "Almost Paradise"
None are hit as hard as the dumb babysitter in "Baby Blues", which in the modern day is still dumb, really ugly and now... "works" in the street.
Notably averted in "Debut" - all of the young, beautiful high-society debutantes (male and female) are still fairly attractive (for their age) 40 years later. Wealth and privilege can have that effect though.
"Almost Paradise" also had an inversion; the victim's mousy, bespectacled Hopeless Suitor grew up to be a tough martial arts instructor, albeit still one who uses an inhaler.
Inverted with a victim's brother in "The Badlands", who has gone from Addled Addict to upstanding military recruit in the year since the murders.

It turns out that HE'S the killer and this was his effort to atone for his actions

. Played straight with several other characters who have gone from being decent people to criminals.
Irony: Two in "Witness Protection":

The

ex-con trying to get his life together

was the one who killed a federal witness.

He

killed the witness because

he wouldn't tell him where his son was who he thought was with his daughter

. The moment

he

killed him

his daughter called

.
In "The Badlands", we realize that what caused a victim's drug addict brother to get his act together and genuinely become an upstanding citizen in the year since the murder. . .

is that HE'S the killer and was so horrified by his actions that he's been trying to atone ever since

.

I See Dead People:

At the end of most episodes the ghost of victim is seen by the officers and/or by someone who is they were close to (family, friend etc.) Occasionally the killer will also see the victim.
Subverted in two episodes in which the victim is not seen; the first because the case wasn't closed, and the second, because the victim was only a infant at the time of death. And then, there was the one where

it turned out the victim wasn't dead

.
Kick the Dog: It's not hard to see the detectives as doing this at the end of "World's End" when they arrest the ancient, Alzheimer's-afflicted Felton Metz all the while the man's son (who, it's implied, has independently figured out his father was the killer) is begging them to let him live out his final days in peace.
Knight of Cerebus: The FBI agents from "Red Glare". Everything turns black & white when they come around.
L - R
Make It Look Like an Accident: "Blood on the Tracks". The explosion that killed the two victims was thought to be due to an accidental gas leak. 20-something years later, evidence surfaced revealing that it was the result of a bomb. A handful of other deaths as well were initially thought to be accidental, suicide, or even natural causes.
Misplaced Retribution::

The killer in "It Takes a Village". Horrifically abused while in a group home, he is now killing innocent boys who have the misfortune of reminding him of his tormentors, instead of, you know, those who actually bullied him, or those who let it happen.
Tanner in "Knuckle Up"

killed a random stranger who happened to remind him of his father.

Cops is considered a blanket term with the homicide detectives always being blamed for missing persons or earlier detectives not doing their jobs.
"Sabotage":

The killer's brother was one of the people he blamed for his daughter's death.
A lot of the people he targeted were people just doing their job. He wanted them to behave a certain way (which usually involved putting him or his interests first) and took it as a personal insult when they didn't.

In order to stop his daughter from running off, the killer in "Witness Protection" killed the boyfriend's father.
Missing White Woman Syndrome:

Invoked in "8:03 AM", when the grandfather of a murdered black teen thinks the police are only reopening the case because a white girl was killed at the same time. He is actually wrong.
Several (innocent) suspects admit that they fled from or refused to cooperate with the police because they knew they would be the prime suspect, simply for having been a black man in the mere vicinity of the dead white victim. One in particular, in

"True Calling"

was completely aware of who the murderer was—he saw the whole thing happen—but never said anything because he knew no one would believe him due to his race, class, and background.
"It Takes a Village". Race is never mentioned, but it's obvious that the grieving relatives of the victims suspect that the cops would have paid more attention to the cases had they not been black boys from a poor section of Philadelphia.
It's a plot point in "Discretion" where the prime suspect in the murder of a pretty white college student is a dimwitted Barrio kid; not only did many people believe he was framed, but the prosecutor and arresting officer, both Latino themselves, were seen as traitors by the community.

The kid actually was framed, but not for that reason

.
Averted in "A Dollar, A Dream". The victim, an attractive white woman, went missing for over seven years until her body was found. Judging by the comments of the main cast, the case appears not to have been particularly noteworthy at the time. Played straight in that the victim was homeless, and the trope most frequently applies to the upper-middle class (or higher).

"Mister Sandman" Sequence: The flashbacks will often feature a nearly perfect representation of the era in question—hair, clothes, fads, music, social issues—the whole works.
Mistaken for Gay: The girl murdered in 1919 was thought to be this after a letter from her maid talking about their "shared passion", which is being suffragettes.
Musical Episode: "Creatures of the Night", "Triple Threat" and "Wilkommen" showed off the guest actors' singing.
Musical Nod: "Get Together" by the Youngbloods is the ending song for first season episode "Volunteers"; the song shows up again in the final season episode "Free Love". Both cases occur in the year 1969.
My God, What Have I Done?:

The more sympathetic killers show this after they've committed the murder, ranging from horrified looks on their faces to tearfully apologizing to the dead/dying victim (such as in

"The Red and the Blue" and "Read Between The Lines"

).
Jeffries in "Death Penalty: Final Appeal", when he realizes the convicted man wasn't lying...after the titular death penalty has been carried out.
This is a common interpretation to even some of the victims, particularly the less-sympathetic ones: the victims in "Maternal Instincts" (ashamed that she

kidnapped a baby before she was murdered

), "Blackout" (her

pedophilia

leading to her death) and "Greed" (the killer, a corrupt, manipulative executive, sheepishly thanking Lilly for solving his murder.)
While not the killer in "Roller Girl", the victim's friend Julie suffers this when she learns that refusing to allow the victim to stay the night at her place in part led to her getting killed.

My Greatest Second Chance: "Forensics" uses this trope in an appropriately twisted fashion fit for a murder mystery. The victim was a high school debate prodigy who was seen as this by his teacher, who had himself been an apt debater in high school before, so he tells it, his partner made an embarrassing mistake that cost him the national title. It's eventually discovered that he got the team disqualified by going apeshit on his opponent and was in denial about it, and what's more murdered his student when he decided to quit the team.
My Sister Is Off-Limits!: Lilly isn't exactly thrilled to learn that Scotty has been seeing her sister and it leads to them being cold to one another for a couple of episodes. She eventually opens up and explains that her disapproval is as much for Scotty's emtional well-being as her sister's; he's still trying to move on from his previous love's suicide and Lilly's addict sister has a multitude of issues that wouldn't be conducive to a healthy relationship.
In "One Fall", the two chief suspects are totally not Vince McMahon and Ric Flair. Possibly a Take That! since WWE exists in the Cold Case universe.
"Soul" is clearly based off of Marvin Gaye; a young and gifted Black musician with substance abuse issues clashing with both a powerful and egotistical record producer and his strict reverend father who disapproves of his genre of music/lifestyle and with a brother in the Vietnam War.
Obfuscating Disability:

The killer in "Metamorphosis"

pretended to suffer from cerebral gigantism and uses the fact that people expect him to be mentally retarded to conceal his true intelligence

.
The killer in "Shuffle, Ball Change"

faked a career-ending knee injury in order to drop out of wrestling without disappointing his father. One of his crutches turned out to be the murder weapon.

Oblivious to Love: The victim in "Soul"

thought his killer was angry for abandoning her to start his own record label. She was actually in love with him

.
Offing the Offspring: A few times, such as in

"Forever Blue" and "Thrill Kill"
There is Scotty's girlfriend Elisa, who was Put on a Bus to Hell:

To an asylum after suffering a mental breakdown, despite Scotty had promised her she wouldn't be interned.

And then suffered a Bus Crash:

By jumping off a bridge some time after she had been discharged.

All this happened off-screen.
S - Z
Sadistic Choice:

In "Who's your Daddy", one of the two victims was given a choice between accepting visas from another family (and basically condemning them) and allowing himself and his family to be deported (the same as a death sentence).
"The Perfect Day", and how! In a fit of If I Can't Have You..., an abusive husband forces his wife to choose which of their twin daughters she'll save, and which one he'll throw off the bridge. You can guess what happens next.
Ungrateful Bastard: The victim's family in "

Lotto Fever

".

The killer in "A Perfect Day" perceives his wife as this, although it's pretty clear to everyone else that he's the one with the problem.
The victim in "Shuffle, Ball Change" was one.

Subverted in that he actually did get his father's approval, but was killed before he could learn this.

The son of the victim in "Dead Heat" was one. He found out his father really loved him only after he found out the father'd made a life insurance policy on his name.

Shame he'd already killed his old man by then.
---