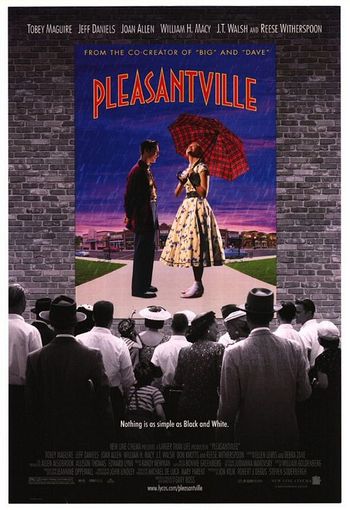 "There are some places that the road doesn't go in a circle. There are some places where the road keeps going."
— David
A deliberately Troperrific 1998 comedy-drama film, written and directed by Gary Ross and starring Reese Witherspoon, Tobey Maguire, Jeff Daniels, Joan Allen, William H. Macy, J. T. Walsh, and Don Knotts.
Jennifer (Witherspoon) and David (Maguire) are a pair of '90s teen siblings who, during an argument over who gets to use the big TV in the living room, wind up Trapped in TV Land due to a strange TV repairman (Knotts) and a stranger magical remote. Specifically, they wind up in Pleasantville, an old black-and-white show portraying the stereotypical 1950s American suburb (along the lines of Leave It to Beaver or Father Knows Best, but even more idealized). David is thrilled because it's his favorite show, taking place in a happy world where nothing bad ever happens (as a contrast to David and Jennifer's unstable home life). Jennifer, being more of a party girl, finds Pleasantville incredibly dull and wants to liven the place up. Still, they both want to get home, and David wants to do so without upsetting the community — but the repairman gets antsy and they're stuck.
Their presence winds up throwing the heavily-idealized world into chaos. As things become less idealized and more like the real world, they begin to show up in color instead of black and white — people cease to be monochrome whenever they stop staying nice and snug within their boundaries and break out, displaying some inner truth about their character.
For an oddly similar experience in book form, try The Giver. Also see Midnight in Paris for a similar story dealing with escapism, and WandaVision for a Psychological Surreal Superhero Horror-based take on the premise, which is set in not only the 50s, but in the following six decades as well (kinda).
---
We'll be right back after some important Tropes from our sponsors!
---
"Well that concludes the first hour of the Pleasantville marathon. Don't forget, we'll be going all night long until noon tomorrow."