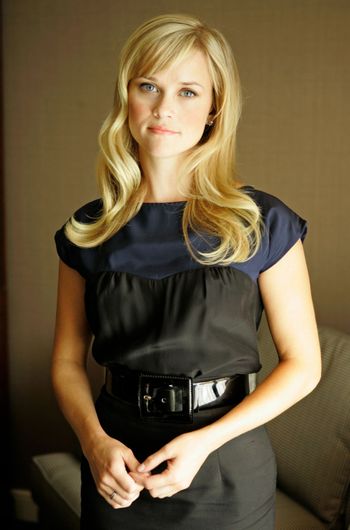 Laura Jeanne Reese Witherspoon (born March 22, 1976) is an American actress from New Orleans, Louisiana.
She won an Academy Award in 2005 for her portrayal of June Carter Cash in Walk the Line. Her breakout role was Elle Woods in Legally Blonde in 2001. She is noted for being able to play a broad spectrum of characters. She is also a film producer and owns her own production company, Hello Sunshine. She was married to Ryan Phillippe and now married to Jim Toth.
---
Notable Roles:
---
Tropes relating to her career:
Large Ham: She has a tendency to be one.
Ms. Fanservice: She is often portrayed as sexy or a lust object, e.g. in This Means War, Legally Blonde, or Nipple and Dimed in Twilight (no, not that one), or in Wild as well, though some of it is also Fan Disservice.
"The Reason You Suck" Speech: Gifted at doing these, see Walk the Line, Freeway, Election, etc.
---