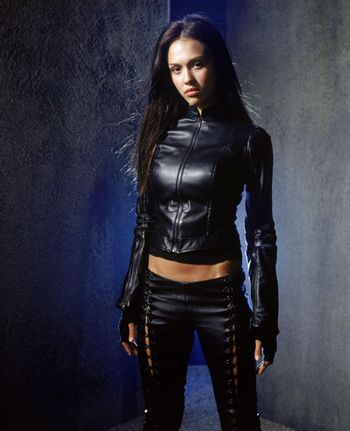 "I don't know if you've noticed, but she ain't bad lookin' either..."
— From a
Sky1
promo before the show's UK debut. No prizes for guessing the identity of the "she" to which the ad refers.
A dramatic show on Fox from the mind of James Cameron that ran from 2000 to 2002, set in a future of political, economic, and moral collapse that results when a shadowy terrorist group wipes out America's economy with a massive electromagnetic pulse. A genetically enhanced Super Soldier X5 prototype named Max escapes from military confinement and dwells amidst the decadent underground street life of 2019 Seattle while making minimum wage at a bike messaging service called Jam Pony and occasionally stealing. Searching for her brothers and sisters who were scattered in the aftermath of their escape from Manticore in 2009, Max encounters Logan Cale, aka Eyes Only, idealistic cyber-journalist battling repression and corruption in post-apocalypse America.
Eventually, Logan calls her to the highest part of her being and she becomes his samurai, taking on the ruthless power brokers of the new millennium. Max and Logan's odyssey leads them closer to the secret of her past, deepening and complicating their relationship in the process.
At the beginning of the second season, Max frees more of Manticore's experiments, and the show goes from being focused on Logan and Max to more of an ensemble show. For some fans (especially those coming back to watch it for Jensen Ackles after seeing Supernatural), the story of Alec, a recently freed clone of Max's Serial Killer brother Ben, in the second season was more interesting than the main plot. Fans of the first season and the original characters resented the dramatic transformation of the show's format and the focus on new characters.
The series got moved to Friday nights in its second season and dropped after in favor of Firefly, causing some fan wars on the internet. The fact that Firefly was also dropped/mishandled by Fox is a lesson in Executive Meddling. What's more, the Dark Angel cast and crew were told by Fox that they had been picked up for a third season only two days before it was officially announced that they were canceled instead.
After the show's cancellation, its intended plot was continued in the novels Skin Game and After the Dark. There was also a prequel called Before the Dawn and a book called The Eyes Only Dossier with extra information about the show's universe and new subplots.
The series was co-created and produced by Aliens and Terminator director James Cameron. He also directed the final episode, "Freak Nation", his only dramatic TV effort to date and the only scripted work he shot between Titanic (1997) and Avatar. Cameron has turned similarly themed manga Battle Angel Alita into a live film, as well.
See also: Robert A. Heinlein's Friday, for another story of a genetically-engineered woman in a future where the United States has broken up.
No relation to the Warhammer 40,000 Space Marine chapter of the same name, or the Thrash Metal band.
This show provides examples of:
Evil Brit: British Eddy, the leader of the Steelheads. Alec imitates his accent for a moment while insulting him.
Evil Luddite: The May 22 Movement in "Prodigy" (named for Ted Kaczynski's birthday, who's their inspiration) are a terrorist group who believe that genetic modification is an abomination that has to be stopped. As a result, they take hostages at a conference where gene therapy is being shown.
Excuse Me While I Multitask: Alec beats up a gang of Steelheads in "Two" while simultaneously taking a call from Logan, nonchalantly. The cheek enrages them.
---