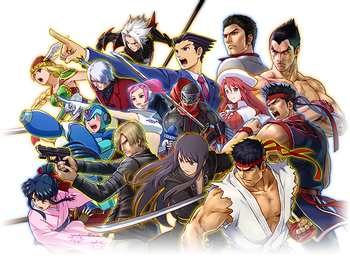 A list of characters for the Bandai Namco Entertainment, Capcom, and Sega crossover game Project × Zone. All of these characters retain traits from their source material.
For characters appearing in Brave New World, go here.
---
Traits for all characters:
open/close all folders
Introduced in the first game
Playable Pair Units (in order of who joins the party)
---
Monkey King Lite: Kogoro is close enough to be a Sun Wukong clone, being a staff-fighting ninja detective that has self-multiplication, wears a golden headband similar to Wukong's restrictive headband, and he is bodyguarding Mii, who counts enough as a Tang Sanzang counterpart, even if the teacher-student relations is reversed.
---
---
---
---
---
---
---
Trick Bomb: They have access to a variety of elemental grenades for their use.
---
---
Running Gag: Whenever the gang gets into aerial shenanigans, Ryu always suggests using the Tatsumaki Senpukyaku to help deal with it. Cue Felicia or anyone else shouting that no, they can't do that.
Shoryuken: The Trope Namers. The attack is frequently employed throughout their movesets, both in its vanilla form and in the Limit Break variations.
Shotoclone: The original two. Their moves are all a combination of energy balls, hurricane kicks and uppercuts.
---
---
Bat Out of Hell: Their MAP attack consists of Demitri turning into bats while Dante plays Nevan.

As expected, this is more or less Demitri's secondary gimmick, as can be expected from a vampire. Parodied when they're paired with Ulala, who's surprised at the brightness of his aura, which causes Demitri to let out an Evil Laugh and shout out "I'm Batmaster!" in Gratuitous English. Dante also expresses surprise, but mostly towards the fact that there's so many demons with a sense of humor.

Catchphrase: Dante's "Jackpot!" shows up again here.
Face Palm: Demitri does this occasionally.
Irony: A devil hunter paired with a vampire devil.
---
---
A-Cup Angst: Estelle becomes depressed when she sees Kaguya and her impressive rack, added to the fact that she, too, is a princess as well.
Badass Creed: Well, it wouldn't be Savage Wolf Fury without it.
Wolverine Publicity: Yuri's considered a fan favorite more than the other Tales protagonists and it shows.
---
Ironic Echo: Played for Laughs with Riela after telling the party not to be afraid of her Valkyrian powers. Because they all have Seen It All and while impressed, they're not really all that surprised about it. Monsters then appear and surround the party and she is the one who gets all startled while Black Rose tells her to "get used to it".
Leitmotif:

"Moshimo Kimi ga Negau no nara", the theme of Valkyria Chronicles III.

Absent in the International Versions. Replaced with Imca's leitmotif, "Open Fire!".

"Valkyria's Awakening" (Special/Multi Attacks)

Also becomes one of their regular themes in the International Versions.
You Are Number 6: Their squad numbers are Seven and Thirteen respectively. Thanks to Valkyrie's clumsiness though, their true identities are revealed to the rest of the cast as soon as they meet each other.
---
---
Door Stopper: Cyrille's Shining Force which usually is in book form is huge, requiring her to use both hands just to use it to whack at somebody.
Elemental Powers
Voiced by: Mariko Suzuki (Japanese)
---
---
Shoryuken:

X can charge the Rising Fire weapon to perform a rising uppercut that sets his fist on fire.
In the sequel, X can perform Ryu's iconic rising uppercut move in their MAP Attack.
Sword and Sorcerer: Zero focuses on melee attacks with his saber, while X mainly fights with projectiles.
Wall Jump: While X and Zero are known for using this frequently in their source game, it's notable in their Special Attack when they wall jump up thin air.
Why Did It Have to Be Snakes?: In the second game, when Valkyrie leads the group to a part of Marvel Land with a castle and some moving platforms over spike pits, both of them are terrified of them and X even asks her what "vision of hell" she's taken them to, referring to instantly lethal nature of Spikes of Doom in their home series. The rest of the group is suitably confused of their reaction, wondering why a pair of nimble robots like them are so scared of simple platforming and why do they think that regular spikes would even damage their metal bodies. On their end, X and Zero proceed to take the relatively safer option of a catapult ride instead.
---
Adaptational Superpower Change: In Resident Evil: Revelations, the Genesis is useless in battle, as its only function is finding hidden items and collecting data. In the Project X Zone games however, it not only keeps its scanning properties, but also stuns enemies and destroys their defenses.
A Taste of Power: When they first appear in prologue 5, they already have access to their MAP attack. Naturally, you don't get them again until stage 21 and they're the final unit to join you. Ironically, they're the first unit to join you in the sequel.
Support Solo Units (in order of who joins the party)
---
What the Hell, Hero?: Calls out Batsu why he wasn't at Roppongi where they were supposed to fight each other, though Batsu couldn't really do much about that one with all the dimension warping going on.
Younger Than They Look: Xiaoyu is surprised to find out he's only in high school. Jin lampshades this. The same happens with Bahn protecting Estelle.
---
---
Promoted to Playable: Becomes Zephyr's partner in the sequel, while demoting Leanne.
Running Gag: Busting out his infamous dance for even sometimes no reason at all. There's also his "raisin" (or the "withering land" in Japanese) joke.
¡Three Amigos!: With Zephyr and Leanne. He trades places with Leanne as Zephyr's partner in the sequel, while she gets demoted to assistant.
---
Voiced by: Tamaki Nakanishi and Mariko Suzuki (Japanese)
---
---
---
---
---
---
---
---
Badass Normal: Has no powers other than mastery of the Kalina Ann.
BFG: Kalina Ann, albeit a missile launcher.
Greed: Talks fairly often about charging other characters for her help in battle. At least in battle dialogue.
Irony: When you assign her to Dante and Demitri, or any Pair Units with supernatural-based characters, like Morrigan or Xiaomu. She hates demons, that's why.
Leitmotif: "Devils Never Cry (Staff Roll)"
Put on a Bus: Dante is seen using Kalina Ann in Project X Zone 2, all but confirming that she isn't returning.
---
Hot-Blooded: Has a really short temper compared to the rest of the cast and often proposes cutting down on the talking and just punching their foes. Demitri laments that drinking Batsu's blood would give him heartburn.
Leitmotif: "We Will Protect Our School"
---
A-Cup Angst: Gets angry when Vashyron brings up the "raisin" joke.
---
---
Voiced by: Ben Hiura (Japanese)
---
Voiced by: Herself (Japanese)
---
---
Co-Dragons: She and Sheath serve this role to

Byaku Shin

.
---
Rivals and Enemy Units
---
Book Ends: His debut gets silenced by Sanger in Prologue 3. He gets silenced again by

Dante in Chapter 39, when he's killed.

Dark Messiah: He views himself as one.
Death by Irony: It is revealed that he was traveling to gather souls to feed to the Fetus of God. guess what happens when the heroes beat him?
Vocal Evolution: His voice is less deep in this game. (The high-pitched laugh is the same though.)
Your Soul Is Mine!: How he ends his Limit Break is that he'll suck off your soul proclaiming that the contract is now established. This is after he splatters you to a rock all bloodied up.
---
---
---
Anything That Moves: She brainwashed the entire Morolian army by kissing them one by one. This includes Coco Tapioca, who is a robot.
---
---
Butt-Monkey: Neither the heroes or the other villains take him seriously, to the point Aya-me knows that he will screw up somehow.
Humongous Mecha: He pilots a rabbit-shaped giant mecha called Prelude.
Verbal Tic: He ends almost all of his sentences with "pyon", which is the Japanese onomatopoeia for a rabbit jumping.
---
---
---
The Voiceless: Played straight in the first game, but averted in the sequel, where she briefly talks to Kagemaru before dying.
Voiced by: Hitoshi Bifu (Japanese)
---
Breath Weapon: The mouth in his belly can breathe flames to incinerate his foes.
Dual Boss: He comes in pairs when you fight off against him the second time and onward, referencing the need to complete Ghosts 'n Goblins twice in order to obtain the good ending.
Mighty Glacier: The first pair you take down will suddenly have an increased defense stat under the ten thousands, prolonging his survival.
Playing with Fire: Both his special attacks involve blasting the party with his fire breath.
---
---
---
---
Voiced by: Yoichi Nishijima (Japanese)
---
Voiced by: Toru Nara (Japanese)
---
The Unfavorite: Implied. When you beat Dokumezu in Chapter 31 of the first Project X Zone, Saya says he always had a cute personality. When you beat Dokugozu, she talks about lightening his punishment instead.
---
Voiced by: Kazuya Tatekabe (Japanese)
---
---
---
Non-Playable Characters
---
---
---
Worthy Opponent: When Sanger meets the Phantom for the first time in chapter 27, he calls it this trope. As an Ace Pilot who's logged a lot of time with the Phantom's big brothers, he knows his stuff.
---
Character Home-Series Pages:
<!—index—>
Capcom
Namco
Sega
---