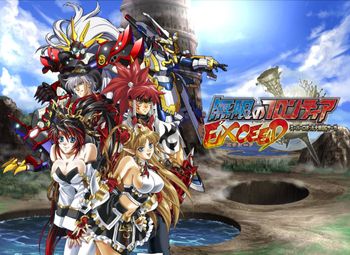 Super Robot Wars OG Saga: Endless Frontier
is an
Eastern RPG
for the
Nintendo DS
released in May 2008. Although this
Spin-Off
does not take place in the same universe as the
Super Robot Wars: Original Generation
games, it is nonetheless
tied to
its story
.
The "Endless Frontier" is a collection of multiple worlds connected by dimensional portals known as "Cross Gates". In one of these worlds, Bounty Hunter and amateur ladies man Haken Browning and his Artificial Human Sidekick Aschen Brodel explore the ruins of the crashed spaceship Mai Terra, one they were both found in when Haken was just a baby. Inside they find, much to their surprise, a rather well-endowed young woman with an enormous sword and a tiny dress sleeping in the crew's quarters. Turns out she's Kaguya Nanbu, the ojou of one of the Frontier's worlds. Discovering there's a reward for her safe return, the pair decide to accompany her home. Since this is roughly the first ten minutes of the game, things naturally start to snowball from there: strange "Mild Kiel" crystals start sprouting up all over the Endless Frontier and some very familiar-looking robots connected with a war that happened ten years ago have reappeared again. Secrets, conspiracies, spankings, and lots and lots of boob jokes await.
Along the way, the group run into a number of travelers from beyond the Endless Frontier: Reiji Arisu, a law enforcement agent of "Shinra" from Earth, his fox-spirit partner Xiaomu (whom some may remember (or not) from Namco × Capcom), and KOS-MOS, a Robot Girl from the far future. Unfortunately, their problems have tagged along, too.
Endless Frontier uses a Turn-Based Combat system similar to to Namco X Capcom where orders are issued via Action Commands instead of the usual system interface typical to Eastern RPGs. Attacks can be chained into combos with one another to ensure an enemy cannot get a bead on the party when it's their turn to attack, allowing long attack combinations. Players can also issue a set of new commands during these attack strings, such as allowing the next party character to continue the combo, request assistance from characters placed in reserve or executing an "Overdrive" to maximize damage and achieve bonuses post-battle. Like its namesake, Mecha do appear in the game, though they take a back role, appearing around a few meters tall compared to their counterparts, and are only available as an assist.
A sequel called Endless Frontier EXCEED was released on February 2010 on the same platform, with a somewhat wider focus: the "Fairies" (really, elves) from the kingdom of "Elfetale" fled the Endless Frontier during the war and ended up spending the next ten years co-existing with the "Shura". When a Shura fortress (coincidentally the one the Fairies are mostly living in) ends up getting tossed into the Frontier, Elven Princess Neige Hausen sets out to find out what's going on. Accompanying her is young Shura warrior Alady Nasch, who has the additional job of tracking down a Shura artifact that decided to step off its pedestal and take a walk, particularly before their rivals find it first. Meanwhile, the Endless Frontier is abuzz regarding the reappearance of Mild Kiel crystals, alongside new entities with their own ambitions. To make matters worse, more remnants of a war-mongering faction are on the move again, with their own schemes. However, a few individuals from beyond the Endless Frontier have made their way into the setting.
Understandably, EXCEED features an expanded cast. In addition to new faces, the entire cast of the previous game returns, including Reiji, Xiaomu, and KOS-MOS (who also brings M.O.M.O. along this time). EXCEED even pulls in Axel Almer and Kouta Azuma from the main Original Generation installments, and Mark Hunter, a character from an obscure Banpresto Super Famicom Eastern RPG called Gaia Saver. The combat system is also refined, doing away certain Scrappy Mechanics and easing gameplay to fit the much wider selection of characters.
While the first game was localized and released in April 2009, there's been no word of a localization for EXCEED, although a fan translation exists.
However, Haken and Kaguya reappear in Project × Zone, a Spiritual Successor to Namco X Capcom, along with Reiji, Xiaomu, KOS-MOS and surprisingly, Sanger Zonvolt from the Original Generation series. Bringing this Spin-Off full circle, in August 2016, Haken and Aschen appear in Original Generation Sequel The Moon Dwellers, using a full-sized version of the Phantom and Haken's "Night Fowl" rifle called the "Gespenst Haken".
---
Tropes in Endless Frontierinclude:
---