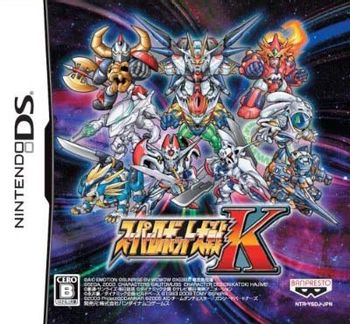 Super Robot Wars K
is the second
Nintendo DS
-released
Super Robot Wars
, which more or less reuses the visual and combat engine from
Super Robot Wars W
, with some new additions and some rather unorthodox debuting series as well. Once again, it has no Universal Century
Gundam
, no
Getter Robo
, and no
Mazinger
except for the original, which either upset the traditionalists or made players desperate for new blood happy.
Featured series in K (with debuts in bold):
Notably, K has a particular oddity of having no plot from shows before the 2000s: while Dangaioh and the original Mazinger Z are present, they have very little storyline significance, and all the shows more relevant to the story were made with modern computer animation. This marks a vast departure from the norm, where old-school Real Robots and Super Robots had a significant presence alongside more modern entries. Similarly, K does not reuse any sprites from the previous two games (aside from a handful of Gundam SEED units), despite having an art style that is relatively the same.
Also notable is that this game acquired (even more) infamy when it was found to contain certain music
tracks
plagiarized from Chrono Trigger and Lufia II: Rise of the Sinistrals.
Tropes common to this game are:
---
---