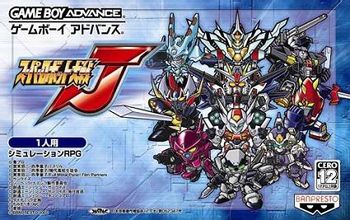 Super Robot Wars Judgment
is the final installment of the
Super Robot Wars
series for the
Nintendo
Game Boy Advance
, featuring vastly improved visuals, game mechanics and an all-new storyline dealing with the invasion of the lunar
Fury
. The player, as usual, can choose between a male or a female
Player Character
, each with his or her own unique storyline that ties in with the new imposing menace.
Judgment generated considerable controversy in the Super Robot Wars fandom. The game was announced mere weeks after the release of Super Robot Wars Alpha 3 with Judgment launching less than a month post-announcementnote No two Super Robot Wars installments have had such a narrow release window between them. Secondly, Judgment broke tradition by excluding Universal Century Gundam and Getter Robo, which disappointed some of the franchise veterans (to date, only Mazinger has appeared in every licensed-Super Robot Wars game). Finally, the inclusion of Tekkaman Blade was seen as a violation by some, as the series uses Powered Armor rather than Humongous Mecha (fans, however, note this demonstrates Banpresto's willingness to expand upon the definition of "robot" for the franchise).
A Fan Translation has been released by the Romhacking Aerie.
Judgment is an excellent introduction to the series for Western newcomers, with its beautiful visuals and tunes, buttery-smooth difficulty curve that stands in stark contrast to other games in the series, accessible game mechanics and a cast of characters from shows that were both localized for and popular with the Western market, with the added bonus of being one of the few translated titles. However, take care: most of the other translated Super Robot Wars titles are more primitive by comparison in design, interface, and presentation, and it can have the unintentional effect of making its predecessors seem dated and ugly.
Series featured in Judgment (Bold indicates debuting entries):
Judgment features examples of:
---