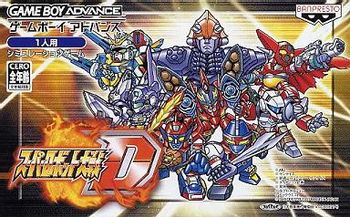 Super Robot Wars Destiny
is the fourth installment of Banpresto's
Super Robot Wars
franchise on the
Nintendo
Game Boy Advance
, preceded by
Super Robot Wars Advance
,
Super Robot Wars Reversal
and
Super Robot Wars: Original Generation
. The series featured in
Destiny
is noted to be unique towards fans at the time (other than
Super Robot Wars Judgment
and
Super Robot Wars K
, since both involve the removal of traditional series), as uncommonly used series appear in the main plot, such as
Megazone 23
and
The Big O
.
Featured Series (Debuts highlighted in bold):
Destiny takes place in a post-apocalyptic world, prominently after the beginning of Getter Robo Armageddon, where a nuclear explosion wipes out the majority of humanity. While other factions are doing their own activities, they are shocked to discover the Earth is sealed, having disappeared from the face of the universe. The heroes must find out the reason behind the sealing and how to stop it. On the course of the journey, the player will engage against the antagonistic Ruina, a destructive race bent on seeing the rest of the universe in ruins.
Like prior games, Destiny gives players the choice of two protagonists: Joshua Radcliff or Cliana Rimskaya, with a selection of two original real or super robots. However, depending on who is the primary protagonist out of the two, it ultimately affects which Secret Character is recruitable for the player. Note that Destiny is also notorious among the fandom for being a tad bit difficult, if not actually Nintendo Hard, as the way damage is calculated essentially forces super robots unable to tank their way through scenarios as usual.
Also important is Super Robot Wars Z and its sequels feature a large portion of the roster from Destiny: only Daltanious, Megazone 23, Victory Gundam and ZZ Gundam aren't present, with the original Mazinger trio being left in the first Z release. While only a coincidence, but Wild Mass Guessing presumes a remake of this game using the Z engine is entirely possible. With the announcement that the cast of Destiny is to be part of Original Generation, the game has clearly not been forgotten and has returned in style.
---
Tropes common to this game are:
---