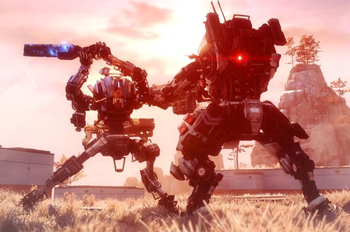 A sub-genre of nearly every video game genre out there, The Mecha Game focuses on the use of Mecha to blow the crap out of each other.
Mecha games usually come in two flavors, High-Speed and Stompy, mirroring the Super Robot versus Real Robot divide. In stompy games, usually referred to as Mech Simulators, which were more prevalent in earlier times, the Mecha move rather slow normally, and an emphasis is on long-range combat with missiles, lasers, machineguns, and the like. Mech Sims usually also have a first-person perspective from the mech's cockpit. High-speed games are, as their name suggests, much zippier, often with a focus on close-range combat, although guns may be just as prevalent. These are usually shown from a third-person perspective.
As noted in the opening, Mecha Games are not a genre in and of themselves, but a sub-class that encompasses action games, simulations, Turn-Based and Real-Time Strategy, and more. What sets these games apart as a sub-genre is the fact that most Mecha games have a heavy customization element. Weapons, pilots, and sometimes entire mechs and parts thereof can be purchased and switched around between missions/stages, giving players unique engines of destruction and mayhem. This focus on Elite Tweaking makes it entirely possible for a Mecha Game to allow both stompy and high-speed styles of play. Other games may not have the customization element (for instance, MechAssault), but are included due to the sheer force of Humongous Mecha as a trope/meme. Because the term "Mech" has been trademarked, expect to see A Mech by Any Other Name.
---
Examples:
<!—index—>
Armored Core (Trope Codifier for the action-oriented Mecha Games)
Armed Seven
Baldr Sky (a visual novel series with 2D combat from an over-head perspective)
BattleTech and its various spinoffs and simulator consoles.
Bionic Dues, a mecha game done in a top-down Roguelike style.
Custom Robo is an interesting example: it takes the Humongous Mecha trope and chokeslams it onto its head. The titular robos are knee-high.
Garrison: Archangel (3D-fighting game with customization elements)
Ghost in the Shell - where you pilot a Spider Tank to fight assorted robotic enemies throughout
From the Gundam franchise:
Kileak The Blood

Kileak 2: Reason In Madness

Machine Hunter - where you can physically implant your soul into a mecha. Awesome.
Mad Stalker: Full Metal Force, a 2D beat 'em up that plays akin to a fighting game and shifts into the latter during boss battles.
M.A.S.S. Builder
Mech Platoon
Mechblaze
Metal Jacket
One Must Fall 2097
Robot Alchemic Drive (a spiritual successor the Japan-only Remote Control Dandy series)
Senko no Ronde is another interesting example; it blends the shoot 'em up genre with a fighting game.
EarthSiege
Steel Strider
Xeno series:
ZXE-D: Legend Of The Plasmatlite
<!—/index—>
---