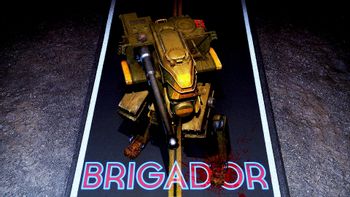 "Some mech games could be about the horror and futility of war and how it harms innocent civilians—the true costs of human life.
In Brigador, if you step on a civilian, you get 50 bucks."
Brigador is an isometric sci-fi vehicular combat game. The game was released in Early Access on Steam on October 16th, 2015 and officially released on June 2, 2016. It received an Updated Re-release, the Up-Armored Edition, on June 2, 2017.
The game uses a unique art style using pre-rendered sprites created from 3D models, with 64 degrees of rotation, making for a very smooth yet distinctly 2D appearance.
On the planet of Novo Solo, in the city of Solo Nobre, the "Great Leader" has just passed away. Now you, a mercenary soldier, are tasked with destabilizing the situation further by attacking the forces occupying the city and destroying defensive installations so that foreign corporate interests can invade and stabilize the rapidly decaying society of Novo Solo. To achieve your goals, you have at your disposal a selection of mechs, tanks and anti-gravity vehicles with customizable armaments and special abilities. You will need these and a considerable amount of skill to stand a chance against the armies opposing you.
Gameplay takes the form of isometric mecha action, following your Brigador pilot as they run through Solo Nobre completing missions. There are two modes of play: "Campaign" is a set of smaller, hand-crafted missions meant to teach you the basics and set you up with some cash. The second mode, "Freelancer", is the main meat of the game, and is a sort of rogue-like mode where you pick a vehicle, pilot, and weaponry before heading in to complete set missions for cash reward.
A sequel, Brigador Killers, is set for a 2023 release. Featuring a stronger emphasis on story, it follows a Solo Nobre hit team tracking down traitors in enemy territory.
---
HERE ARE YOUR TROPES:
---
WELCOME, BRIGADOR
GREAT TROPER HAS DIED
SOLO TROPÉ MUST FALL
HERE IS YOUR CONTRACT
DO YOU ACCEPT?