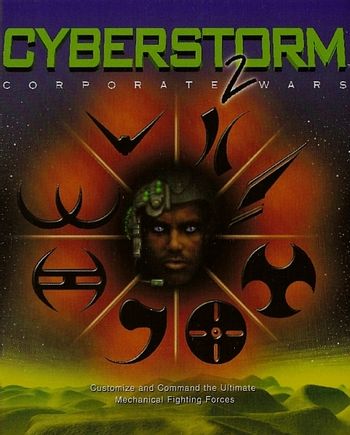 CyberStorm
is a series of
Turn-Based Strategy
games for the PC, based on the
Starsiege
universe. The first game,
Missionforce: CyberStorm
, was released in 1996. The second,
CyberStorm 2: Corporate Wars
was released in 1998.
In Missionforce: CyberStorm, players take on the role of a Non-Entity General in Unitech Corporation, joining the ongoing Robot War against a race of mechanical beings known as Cybrids. The player builds and customizes their own force of both Walking Tanks and their bioderm pilots, selecting from a wide range of weapons, equipment, and pilot ability. Using these tools, the player participates in randomly-generated skirmishes against the Cybrids to earn money and promotions, eventually outfitting his or her forces well enough to destroy the main Cybrid command centers in three different star systems.
CyberStorm 2: Corporate Wars is set even further in the future. Cybrids are still encountered in isolation, but have ceased to be a major threat. This time, the player supports one of eight corporations' efforts in a new star system. In addition to outfitting forces and fighting strategic battles, the player now directs base defense, research, mining outposts, and eventually, assaults against the other seven corporations in order to force them permanently from the star system.
Although not amazingly popular, the first game received good reviews, while the second was thought to be a victim of Sequelitis. Both games offer solid turn-based strategy gameplay on a wide variety of unique planets and moons.
CyberStorm is a 16-bit game, but if you're looking to play on 64-bit Windows with the original CD, grab the player-made patch here
. It was also released on GOG.com
in 2019 in a form already compatible with modern computers.
---
The CyberStorm series contains the following tropes:
---