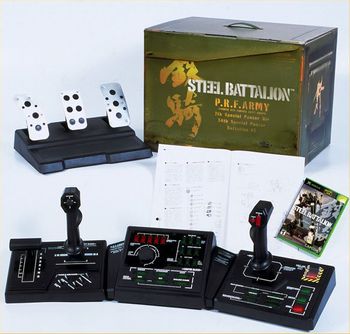 A Humongous Mecha Video Game released for the original Xbox by Capcom in 2002, developed by Nude Maker with Atsushi Inaba's involvement. Perhaps the single most Serious Business, realistic mecha game ever sold to consumers. (There are a few full blown simulated cockpits lurking in major arcades, but they're not exactly going to grace your living room any time soon.)
Why? Well, for starters, look at the controller you have to play it with. It features over 40 buttons (a few of which are used very infrequently, often just during the startup sequence), 2 joysticks (the left one only moving left and right for steering, the right one not centering and used to aim weapons and the manipulator), 3 foot pedals (gas, brake, and slidestep), a gear shift, and a radio dial (with 16 discrete positions, but only 5 are actually used). By the way, the game sold new for about $200, and that's before you factor in the collector's market.
Second, the developers went all out on the simulation aspect, and boy did they ever. You have to memorize complicated boot sequences on the aforementioned controller to get your mecha to start. When you get mud in your face, digital windshield wipers will come down and clean the screen for you. And that's all before you get to blow stuff up!
And third, the game is really, really hard. Most infamously, didn't hit the eject button in time when the warning lights told you to? Not only your character died, but your save is also erased, you have to start over. Not to mention, it is possible to get kicked out, also erasing your save if you fail missions too much since you won't have enough supply points to get replacement VTs. All of this is compacted by the fact your AI allies can barely navigate the map, leaving it all up to you. You're even treated to an especially painful Boss Battle with a mech that can literally turn you off if you get hit. That's after all the Dakka. If that wasn't enough, every single mission has a time limit, with no pause feature.
The game failed at retail, largely due to three factors: the price, the difficulty, and the fact that Capcom, like most Japanese companies at the time, did not want to support the Xbox and spend time making sure the online modes in Line of Contact worked properly. It's also obviously a very niche, hardcore sort of game, much like how you don't see many combat flight or mech simulators released for the PC these days.
Due to the retail failure of Steel Battalion, only a limited quantity of the game was ever produced, to the point where it can almost be considered a collector's item due to the rarity one would ever find it in stock (which would mean it is used). Not too many copies are even available on the Internet, of all places.
A sequel was made, called Steel Battalion: Line of Contact (2004), which does not come with a controller and is essentially a multiplayer Expansion Pack with no singleplayer. The Campaign mode servers were shut down in 2005, but Capcom released a patch that allowed a code to unlock all VTs for Free Mission use. As of April 12, 2010, it is no longer running due to Microsoft shutting down all servers for original Xbox games. Despite this, the community has moved to Xlink Kai for their Line of Contact fix. LOC.NET used to have all the fine details on the game one could ever ask for, but it has since gone defunct. (It also added support for the Xbox's relatively-little-used HD 720p mode and 16:9, whereas the original topped out at 480p 4:3.)
A completely new sequel, Steel Battalion: Heavy Armor, developed by FromSoftware, was announced at 2010's Tokyo Game Show, and uses the Kinect in lieu of the specialized controller as well as the regular gamepad. Unfortunately, it worked about as well as you might expect waving your hands at the screen to operate the control panel for a massively complicated mech would work.
Heavy Armor is set in an Alternate History where a global disaster called "Datacide", in which silicon-eating microbe starts destroying microprocessors back in 2020, and by 2080, there are none left (in short, there is no computers anymore in any form), hence the Diesel Punk look. The United States has also taken a major downfall as a result, to the point where the "United Nations" has invaded most of it, driving the remaining US army to Mexico to reorganize. The United Nations are 16 mostly asian countries that have been conquered by China, here called the Asian Empire and appointed into the new UN by them in 2045 at the end of World War 3.
The China in the game is never actually called China, despite the Infantry using Chinese weapons and the soldiers speaking Chinese and all. They are very reminiscent of the Germans of WW2, what with their VT design mimicking iconic Wehrmacht Tanks; or their capturing innocent civilians to put them in installations for experimentation; or their use of Railway Guns to bombard Poland, because Russian forces are pushing into Berlin... Did we say they were China? Oh yeah, they invaded all of Europe before moving to the US and Germany signed a treaty with them. Now Berlin is the capital, and the site for the construction of a new super weapon.
Heavy Armor has been mostly bashed by critics due to problems with Kinect integrationnote Possibly due to the fact From Software is a Japanese company and the Kinect is not only is as unpopular as the Xbox 360 there, but also the fact the Kinect was made for Western/American markets in mind and not for Asian markets; especially with small Japanese house sizes. some of which can make the game needlessly frustrating (if not borderline impossible) to play. However, many reviewers note that under the problems, the game offers excellent combat, interesting (if somewhat stereotypical) characters and a good plot. Plus, even while the Kinect is... flawed, reviewers note that is incredibly cool when/if the integration works and you're pulling the levers and slapping your crew in the middle of an intense firefight. In fact, if the game is viewed not as "futuristic robot infantry simulator" games like the previous ones did, and more of "walking tank crew simulator", the entire game very much (thematically) delivers on that front. It was never patched to fix its many issues and sold less than the original, making this likely the last Steel Battalion game.
Examples:
open/close all folders
Steel Battalion and Steel Battalion: Line of Contact (Xbox)
Steel Battalion: Heavy Armor (Xbox 360)
---