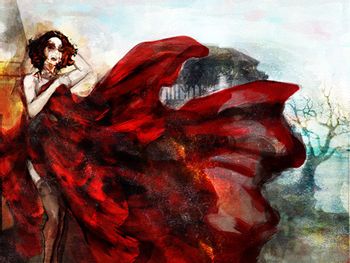 Still Life is a 2005 Adventure Game developed by Microïds. It acts as a spinoff of Post Mortem (2002). Taking place in the winter of 2004, the story features Chicago FBI Special Agent Victoria McPherson, who is investigating a series of grisly and disturbing murders by a masked killer known as the Chicago Ripper. The body count is getting alarmingly high, and the FBI just doesn't seem to get closer to catching the culprit, much to Victoria's frustration.
During a Christmas visit to her father's home, her investigation takes an interesting turn when she discovers a series of secret case files belonging to her detective grandfather, detailing a separate string of murders in Prauge by the Perlovka Ripper, which share a striking similarity to the ones she is trying to solve. In both cases, the perpetrator targeted sex workers and murdered them in terrible ways, and strangely enough, wore a silver mask, dark cloak and top hat. The game follows both Victoria in her modern day quest to stop the killer, and her grandfather Gus McPherson in his investigation of the 1920s Prague murders.
A major theme throughout this dark, atmospheric game is art, as the (soon obvious) sinister usage of the still-life painting technique in its title suggests.
It has a sequel, too.
---
Tropes included:
---