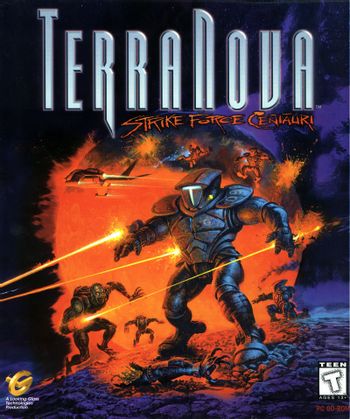 Terra Nova: Strike Force Centauri is a 1996 Powered Armor combat Simulation Game developed by Looking Glass Studios. Set on the various planets and moons of the Alpha Centauri star system under colonisation, the game revolves around teams of powered armor pilots, led by Player Character Nikola ap Io, being deployed against pirate forces that threaten the safety and prosperity of outlying settlements. However, a greater threat is on the horizon...
A fansite of the game can be found here
.
This is one of the games re-released by Nightdive Studios in The New '10s. It can be found on GOG.com: [1]
and Steam: [2]
Not to be confused with the television series Terra Nova.
---
Tropes seen in the game:
---