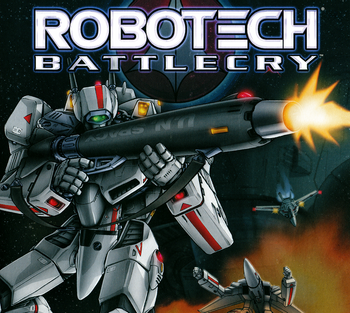 "Sometimes I wonder what kind of person I might have been if things were different? It's one of my darkest fears: if you took the war out of me, would there be anything left?"
Robotech: Battlecry is a 2002 Mecha Game published by the now defunct TDK Interactive, based on the Americanized anime series Robotech. It follows the story of Jack Archer, a former mecenary in the Global Civil War turned Veritech pilot serving under the RDF as a member of Wolf Squadron. Together, with his allies, Jack works to protect humanity from the giant aliens known as the Zentraedi while also trying to determine if his life of war has all been worth it.
Robotech: Battlecry was the first licensed video game from Harmony Gold's Robotech license. The game made use of Cel Shading graphics and featured multiple voice actors from the original series voicing the new cast as well as reprising their old roles as cameos.
The game's story begins at the beginning of the anime before quickly jumping ahead to the SDF-1's return to Earth and the Rain of Death event. The rest of the game takes place during the reconstruction era of the anime where the main Zentraedi forces have been defeated and are integrating into human society while a few fringe insurgent groups are looking to start war anew.
This video game provides examples of:
---