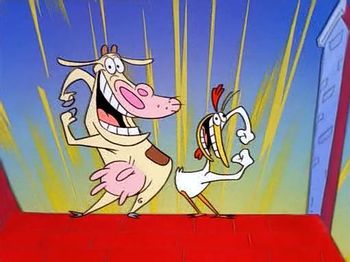 Cow and Chicken
was an animated television series, running from July 1997 to July 1999 on
Cartoon Network
.
Sometimes, television shows have deep and meaningful character backgrounds. Sometimes, opening credits are cumbersome vehicles for an origin story. When creating Cow and Chicken, former The Ren & Stimpy Show animator David Feiss approached the ontological problem of the titular characters' existence in the show's opening song as follows:
The series runs on Rule of Funny, full of Black Comedy, surrealism and a sense of humour that appealed to its grownup audience just as much as to the kids watching it. Cow and Chicken (both voiced by Charlie Adler) typically spend their days having adventures in their neighbourhood, going to school, getting into trouble with their cousin Boneless Chicken (also voiced by Charlie Adler) and encountering a guy from Hell known as the Red Guy (also voiced by Charlie — oh, you probably get it by now).
Their extended family consists of Snail Boy, a snail; Cousin Black Sheep, a sheep whose nice gestures and intellectual talk is construed as nasty; and Sow, an evil pig. They also have an uncle Longhorn Steer, who appears in "Professor Longhorn Steer". The episode "Happy Meat" also showed the ghosts of a pair of Cow and Chicken's ancestors, a male (human) farmer married to a female chicken. Friends and close associates include Chicken's two buds Flem and Earl, and a loud and obnoxious school teacher.
Initially, the show included a Three Shorts format with two Cow and Chicken episodes and one of I Am Weasel. Later on, I Am Weasel was spun off into its own series.
Though the show ended in 1999, the title character were still frequently featured in advertising for the network. In addition, Chicken ended up being one of the most prominent non-host characters for the Cartoon Cartoon Fridays bumpers.
Many years after the end of the show's run, Cow and Chicken made a memorable cameo appearance
in Ben 10: Omniverse.
---
Contains examples of:
---
END!